WINTER WINDOW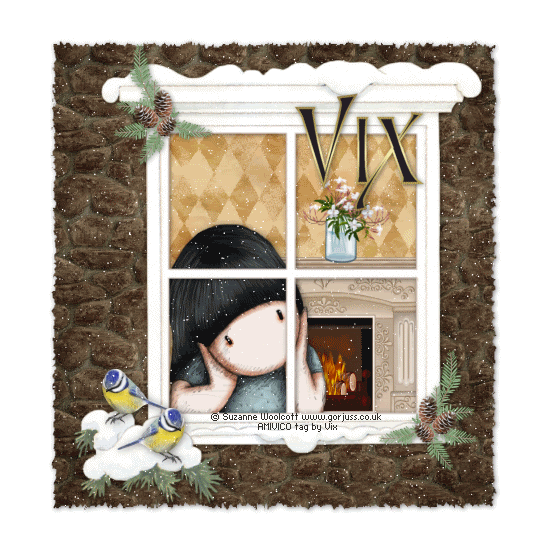 Tube of Choice - I'm using the gorgeously cute artwork of Suzanne Woolcott aka Gorjuss
My tagwork for this tube is licensed via the now closed site AMI - so if you'd like to use Suzanne's artwork in your
tags you should purchase it from her own store HERE
Window Tube - HERE - it was shared with me, I have no idea who made it.
If it's you, thank you 'cos it's gorgeous!
Please let me know if you'd like credit or removal from the supplies xx
Pine Cones, Bird, Fireplace - made by Victoria aka Rainbow Coffi
To get these tubes, you'll need to join the forum
PSP-Playground
They exclusively offer her work for download
and it's wonderful.
Papers of Choice - for "wallpaper" and
also brickwork outside
I'm sorry, I can't share the ones
I used as they're from paid kits.
Improvise with other papers or maybe masks
with brick textures etc.
VDL Adrenaline Snowflakes - ahh, one of my favourite filters lol!
Available directly from the creators HERE
_______________
Open new Image 600 x 600 White Background
Open Window and resize to suit your tag size needs :)
Open your tube, copy, paste, resize and place UNDER
the window tube
Open the Pine Cones, resize Smartsize about 40% twice
Place where liked
Open the bird tube (isn't it cute!)
copy, paste and resize about 40% twice
Place where liked
(I duplicated both the Pine Cones and Bird and mirrored
and place as mine if prefered)
Open FancyFireplace (I love this tube, expect
to see it in my Christmas offerings lol!)
Resize 40% and place under your tube layer
See my tag for placement
(you can add some bits above the fireplace
if you like - get the sizing in perspective too xx)
Take your Selection Tool and draw
out a rectangle that covers the middle of the window
Open your paper that you'd like to use
for the wallpaper
Resize as needed
(ie. if it's a giant pattern, resize
for a more wallpapery look)
Copy and Paste as a New layer
just above the White Background
Selections, Invert, Delete
Selections None
Open your brickwork paper
or brick brush or mask or whatever
you're using for the bricks
Copy and paste as new layer if paper - or apply around
the window (see my tag for the
general idea)
Apply a mask if using brickwork paper
Soften the edges if using brushes
and if you're using a brick mask - well that's
splendid, leave as is!
Make sure this layer is just above the White
Background
Check your tag is taking shape as mine?
Good!
Righty-o! on we go...
Time for snow!
Add new Layer above all the others
Go to your VDL Snowflakes
and apply the following settings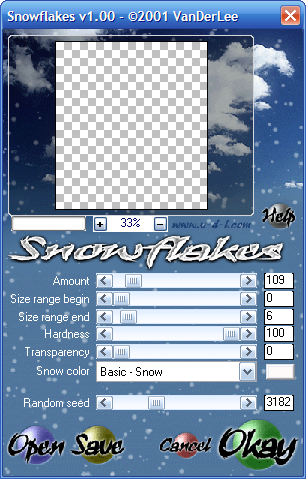 Add new Layer
Apply again changing the Random Seed slider
Add new layer
repeat as above
So that's 3 layers of Snow, with a different
random seed setting for each?
Fab!
Now, let's finish up
Check the layers to see if any need dropshadows
and if they do - add a subtle one to each prefered layer.
Add your name in a font of choice
Add a phrase or wordart if liked as well
Add copyright and license etc
Crop the canvas to your prefered size
Ready to Animate?
Animate the usual way for a 3 layered animation tag
Frame Properties on 30
Animation Properties on White, Opaque
Save as .GIF
Enjoy your new tag
And as December 25th approaches, you can go mad
adding holly leaves, robins or christmassy scraps.
But as it's only October, I'm not lol!
This tutorial was written on 23rd October 2007 by Vix
It is a tutorial based on a tag I made for my friend Missy
in a tag challenge
and any possible similarity to other tag tutorials
that might be available is wholly unintentional and
completely coincidental.
The supplies I share are shared in good faith.
If you see anything used within my tutorials that
you personally know for certain wasn't intended for such usage,
please contact me directly via email to
let me know.
This website is intended for educational/entertainment purposes
NOTHING (unless tutorial supplies
or a tag made personally for you) is to be removed from it.
All of my tutorials are registered with TWI.