WINTER WARMER
SUPPLIES NEEDED
Tube of Choice - I'm using one by Suzanne Woolcott
aka Gorjuss, and her work is only available for use with PSP
via AMI HERE
Brush - Winter Background
Place both the Brush Tip and the main brush in your Brushes folder.
Wintery Scraps of Choice - I used a tag made by Melissa
from Scrappy Expressions when she was Heartfelt Scraps :)
HS_ScrapKit 022 - Thank you hun xx
Brushes - SnowFlakes by Suzanne Woolcott
Download from her site HERE
Snowfall GIF - I have no idea who
made this, it's fantastic!
If it's you, please let me know so I may
credit or remove the item, thank you x
_______________
Open New Image 600 x 600 White Background
We'll crop later
Open your tube and copy and paste as a new layer
Go to your Preset Shapes - Rectangle
Line Width 10.00
Draw out a rectangle - see my tag for ref
and then when happy with size
Convert to Raster
(If - like me, you're using a flat sided tube, make
sure that the rectangle covers the cropped edge of the tube)
Take your Magic wand tool, click inside
the rectangle
Selections, Modify, Expand by 3
New Layer above the White background
Take the Brush I supplied
Choose a colour to suit the tube for
the Foreground colour box
and stamp out to fill the selection
Keep Selected
Add New Layer BELOW the brush layer
and flood fill white
Selections None
Duplicate the rectangle layer
and move below the tube layer
On the top rectangle layer, take your eraser
and rub out the rectangle that
overlaps the tube
(For instance, with the tube I used
I erased the rectangle that went over
the hat of the tube)
On the Brush Layer, add a texture of choice if liked.
Now add a dropshadow to the tube
and the BOTTOM rectangle layer
Don't dropshadow the top one as it's
got bits missing :)
New layer above the white background
and find the Gorjuss Snowflakes 7 brush
Choose a colour or gradient for the Foreground colour box
and stamp out the brush
on the bottom left and top right corners
of the canvas
(see my tag for reference)
Take a tag from the Heartfelt Scraps_022 kit
Cut or Copy it and
Paste as New layer
Image, Free Rotate 10 degrees to the left
Colourise to suit your tag if prefered
Take your font of choice
and add your name
and then add the copyright info etc
Now crop the canvas
I managed to get mine down to 597 x 525
Ready to Animate?
In PSP, hide all the layers except
White Background
Brush Layer - Flakes
Brush Layer - Winter
Bottom Rectangle
Edit, Copy Merged
Over to Animation Shop

Edit, Paste as New Animation
On this new animation
Hit Ctrl and L
keep clicking L to total 20 frames
Big thanks to Blackbird for this tip xx
Also keep an eye on the bottom right corner of Ani Shop
which tells you how many frames you've created
Edit, Select All
Animation Properties, Opaque, right click the colour box
and change to White
Now open the SNOW_fall.gif
and you'll see this also has 20 frames
Click on the first frame of this and then
Edit, Select All
Basically, we want both 20 frames of the tag and
the animation selected
(it'll be blue around the frames if it is)
Now, click Propagate Paste
(That's the icon at the top of Ani Shop next to Delete)
And drag the first frame of animation
over to the first frame of tag
Place at the top left of the tag
When happy with the line up and positioning
Let Go!
Back to the Snowfall animation
and you'll see it's empty so
look along the top and hit Undo Drag
(the arrow)
The frames will fill up again
so you can repeat the drag over to tag
Do this two or three times
I dragged it over to the top left
bottom left
and top right
(didn't bother with bottom right as the tube will
be there)
Close the SNOW_fall.gif as we're finished with it
Make sure that Frame 1 of your tag is highlighted
and that all the frames are still selected
as we've not finished PPing yet
Back to PSP - hide the layers we've just used
and UN-hide the tube, top rectangle layer,
tag layer, name layer, copyright layer
and Edit, Copy Merged
and over in Animation Shop
Paste as NEW animation
Make sure Propagate Paste is still clicked on
as it may not be.
Drag what you just pasted in Ani Shop
over to the first frame of your tag
LINE up carefully
once happy with placement, let go
View, Animation
Save as .GIF
NB. The file size on this is big - mine was
about 489kb.
So, if this is too big for your forums/groups - you may
like to cull the animation, say, every other frame.
But, I think a large file size looks better!!
So, don't stint on your hard work for the sake of
a few bytes :) The animation is fab so keep it lookin' nice!
Make sure you're happy with your tag
And I hope you enjoyed this tut
xx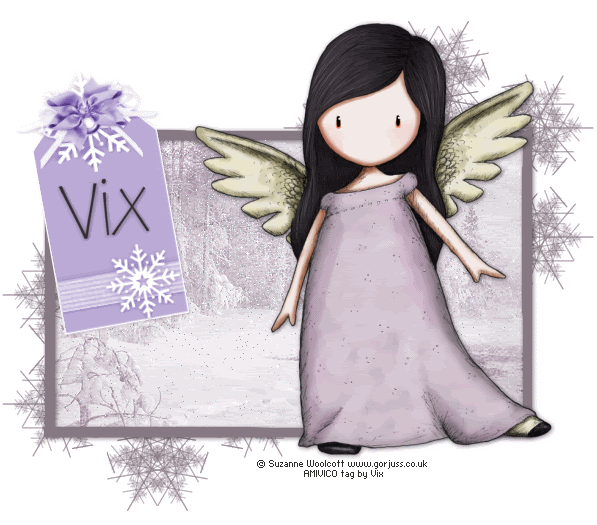 This tutorial was written on 30th October 2007 by Vix
It is a tutorial based on a tag I made
and any possible similarity to other tag tutorials
that might be available is wholly unintentional and
completely coincidental.
The supplies I share are shared in good faith.
If you see anything used within my tutorials that
you personally know for certain wasn't intended for such usage,
please contact me directly via email to
let me know for either removal from the supplies or proper credit.
This website is intended for educational/entertainment purposes
NOTHING (unless tutorial supplies
or a tag made personally for you) is to be removed from it.
All of my tutorials are registered with TWI.