THREAD MY HEART by TYLERESS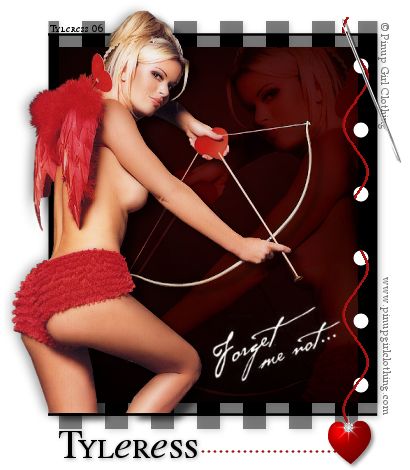 Thanks to Pin Up Girl Clothing for allowing us to use their models.
www.pinupgirlclothing.com

For this tutorial, you will need :
Brushes and Font Of Choice

My Supplies :
Template, Holes, Thread, Heart, Needle and Pinup Tube.

(Click on My Supplies to access the downloadable zip file)

1. Open new image 450 x 475

2. Open up the Template and Pinup Tube
Copy, paste as new layer the Template.

Go to EFFECTS...3D EFFECTS...DROP SHADOW
Vertical / Horizontal 2
Opacity 30
Blur 9

3. Activate the SELECTIONS TOOL...RECTANGLE...FEATHER 0
Draw a section between the little grey rectangles at the top and bottom
As Shown


Using the Dropper Tool, select a colour from the tube.
Activate the AIRBRUSH, using the settings below



Very lightly click over the section, but do not cover the black background too thickly
DO NOT DESELECT.

4. Go to the Pinup Tube
IMAGE...MIRROR
Copy, paste as new layer
Position your tube as shown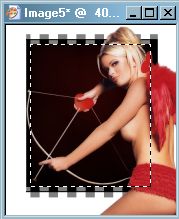 Go to SELECTIONS...INVERT and hit DELETE
Selections None.

On the Layer Palette
Change the BLEND MODE from
NORMAL - SOFT LIGHT.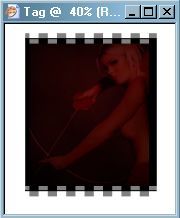 5. Back to the Pinup Tube
IMAGE...MIRROR
Copy, paste as new layer
Go to IMAGE....RESIZE...70%...ALL LAYER UNCHECKED.
Position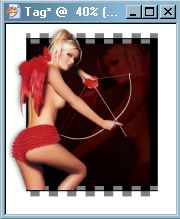 Add a DROP SHADOW
Vertical 0
Horizontal -5
Opacity 35
Blur 14

X out any Background Layer
Layers Merge Visible

6. Open up the Holes, Thread and Heart Tubes
Copy, paste as new layer the HOLES
Position down the right handside.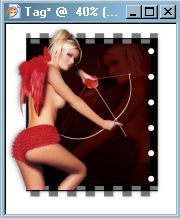 Copy, paste as new layer the THREAD
Position the thread as close to my example as possible.



Activate the SELECTIONS TOOL...FREEHAND...POINT TO POINT
Make 2 sections as shown, Hit Delete.
This is to give the effect of threading.



7. Copy, paste as new layer the NEEDLE
Position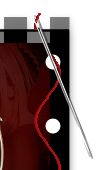 Copy Paste as new layer the Heart
Place at the bottom of the thread.



8. If you want to add any brushes to your tag then do it now.
X out the Background
Layers Merge Visible.
Move the tag up the canvas if need be.

9. Open up your font
I used Will and Grace...Size 30.
Position under the tag.
Activate the DRAW / PEN TOOL...WIDTH 3....LINE STYLE DIAMOND
Holding down the Shift Key
Draw a line from your name to the heart.




Merge All Layers Visible
Crop If Needs Be
SAVE
If you are using the tubes supplied
Remember to add the copyright
©Pin Up Girl Clothing
www.pinupgirlclothing.com
but remember to only use the same tube if you/your group has permission
Please feel free to print it out for your own personal use or link too, but do not copy it in anyway to put on-line, pass out or re-write without any permission.
Any resemblance to any other tutorial like this is purely coincidental.
This tutorial was written by TYLERESS, February 11th, 2006