SUSPENDED by TYLERESS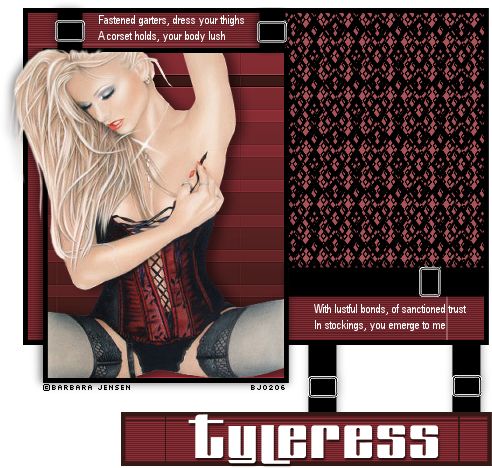 Gorgeous artwork by Barbara Jensen
If you would like to use Barb's work, please visit her website where you can purchase a license.

For This Tutorial You Will Need :

Visman Distortion
Tube and Font of choice

My Supplies
Suspenders
Lace
Quotes
(Click on the word My Supplies to get the download zip)

1. Open up new image 235 x 325

2. Open up tube of choice.
Select 2 colours from your tube
1 dark and 1 lighter.
Set the Top Styles box to Gradient
Open up the Gradients and find your new colour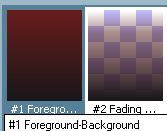 3. Flood Fill the canvas
Go to EFFECTS...3D EFFECTS...VISMAN DISTORTION...FLIPCHOP
Horizontal 29
Vertical 28

Apply this effect TWICE.
Go to EFFECTS...EDGE EFFECTS...ENHANCE
Now
IMAGE...ADD BORDERS...3..BLACK
EDIT...COPY

4. Open new image 525 x 500
Paste as new layer.
Position towards the top left of the canvas.

5. Copy your tube
Paste as new layer
Go to EFFECTS...3D EFFECTS...DROP SHADOW
Vertical 2
Horizontal 12
Opacity 80
Blur 18

Resize your tube to fit the frame.
Activate the SELECTION TOOL...RECTANGLE
We want to remove any dropshadow from the outside of the frame
I am also leaving some of my tube to sit outside of the frame.
Create your sections using the black border as a guide.
Remember to hold down the shift key
When happy
Delete.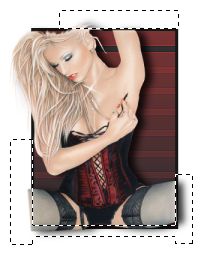 X out any background layer.
Merge layers visible

Add a Drop Shadow
Vertical / Horizontal 0
Opacity 35
Blur 20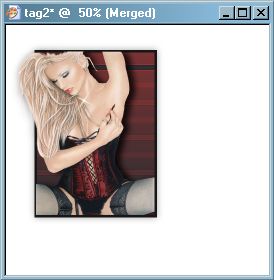 6. Activate the PRESET SHAPES...RECTANGLE...WIDTH 5
Set the top box to BLACK
Bottom box to a complimentary colour
Draw a rectangle as shown


Convert to raster.

7. Activate the MAGIC WAND...Feather 0
Click inside the black border
Go to TEXTURE EFFECTS...BLINDS
Width 2
Opacity 30
Black
Horizontal
Now
VISMAN DISTORTION...FLIP CHOP
Same settings as before.

8. Activate the Preset Shapes
Select a nice light colour
No Border on this one.
Create a section as shown
Ensure this layer is under the tube layer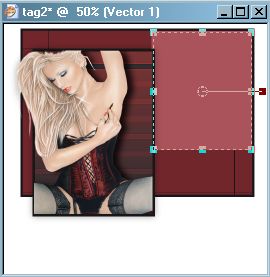 Convert to raster.

Go to SELECTIONS...SELECT ALL...FLOAT...DEFLOAT
Open up the Lace tube
Copy, paste as new layer
Position within the section
SELECTIONS...INVERT...DELETE

Selections None

9. Open up all of the Suspender tubes.
Starting at the top
Copy the Top Suspender
Duplicate and position above tube layer.
Move the Tube layer up to meet the suspenders if it is too low.
Next the Middle Suspender
Position
Finally the Bottom Suspender
Duplicate and position as shown.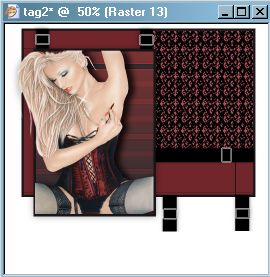 Merge all layers visible.

10. Open up the Quotes
Copy, paste as new layer
Quote 1 - Top Left
Quote 2 - Middle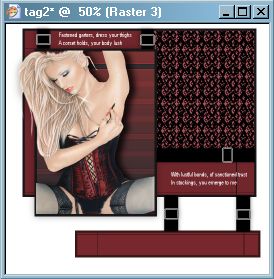 11. Reactivate the PRESET SHAPES...RECTANGLE...WIDTH 5
Top Box Black
Bottom Box same colour as large rectangle.
Create a rectangle for your text box.
Now activate the Magic wand
Click inside and reapply the Blinds and Flip Chop settings we used before.

12. Onto the text
I used Fabulous...Size 32

Add a Drop Shadow
Vertical 2
Horizontal 1
Opacity 76
Blur 3


SAVE.
Please feel free to print it out for your own personal use or link too, but do not copy it in anyway to put on-line, pass out or re-write without any permission.
Any resemblance to any other tutorial like this is purely coincidental.
This tutorial was written by TYLERESS, DECEMBER 13TH, 2006 and was placed back online for you to do on March 10th 2016

This tutorial is nearly 10 years old and it stands the test of time - Enjoy! (Vix)