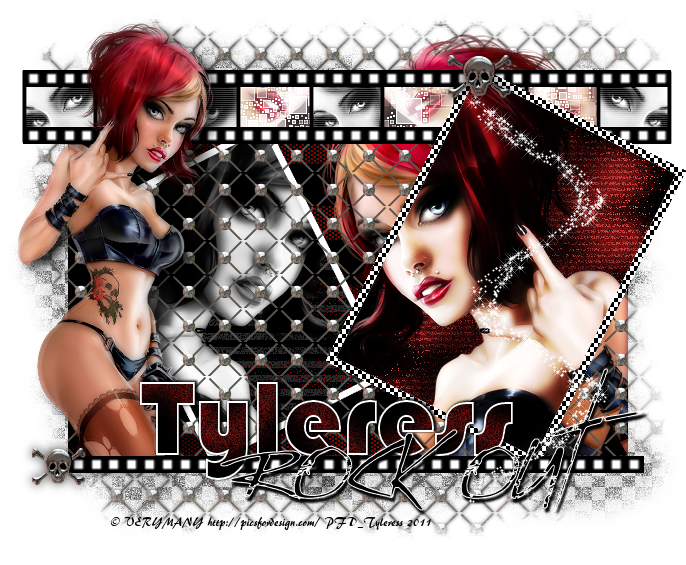 If you would like to use this gorgeous artwork © VERYMANY
Please visit http://picsfordesign.com/
For this tutorial you will need

Tube and Bold font of choice

Mura's Mesiter
Xero
Unplugged Shapes and Effects
Visman
Mesh
Mask by Debb, Blendid Style
Frame
Bling
Skull
For ease name your layers as we go along as we will be working with a lot of unmerged layering

1. Open new image 700 x 575
2. Open up the MESH
Copy, paste as new layer
Go to EFFECTS...3D EFFECTS...DROP SHADOW
Vertical / Horizontal 0
Opacity 80
Blur 5
Duplicate the layer, X out one copy for now
3. Open up your mask
Go to LAYERS...NEW MASK LAYER...FROM IMAGE
Find your mask and apply
Merge Group
4. Open up the Film Strip
Copy the FILM STRIP layer and paste as new layer
Position at the top of the mesh, as shown



Now copy and paste the SQUARES, move this layer under the film strip and position within the film strip
ACTIVATE the FILM STRIP now MAGIC WAND...FEATHER 0
Click in the first frame, go to SELECTIONS...MODIFY...EXPAND 2

Now we want to fill frames 1, 3, 5, 7, 9
Open up your tube ( you may choose to resize the tube to different sizes to give a different look as I did )
On your tube
ACTIVATE the SELECTIONS TOOL...RECTANGLE...FEATHER 0
Select an area you want to go in the frame
copy, paste as new layer and position



Go to SELECTIONS...INVERT
Hit Delete
Selections None
Duplicate the layer...IMAGE...MIRROR and position in frame 9
Repeat the step for frame 3 and 7
Now fill frame 5


X out all of the layers except the tube layers
Merge layers visible

Go to EFFECTS...PLUGINS...XERO...RADIANCE...Default Settings...then...MISITFIER...Default Settings

Go to ADJUST...HUE/SAT...COLORISE...HUE/SAT 0
Now
EFFECTS...TEXTURE EFFECTS...BLINDS
Width 2
Opacity 25
Colour White

Time to fill the remaing frames, this time MIRROR your tube
Frames
2 and 8
4 and 6
Repeat the above steps and stop after you have added the XERO FILTERS.
Don't forget to X out the Black and White layer. Merge Layers Visible

Change the BLEND MODE from Normal to SCREEN
Un X out all of the layers except the MESH layer
Layers Merge Visible

5. ACTIVATE the PRESET SHAPES...RECTANGLE...WIDTH 0
Top Box Null
Bottom Box Black
Draw a rectangle as shown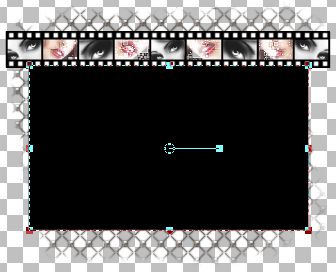 Convert to raster
Move this layer under the Film Strip

6. Add a new layer and move under the Mesh layer
ACTIVATE the AIR BRUSH...BLACK



Spray a rough section all away around your rectangle and film strip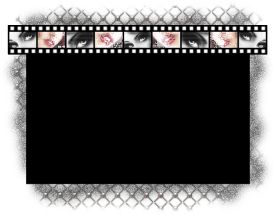 Go to UNPLUGGED SHAPES...CHECKERED FLAG
Change
Scale 11
White/Black Brightness 100
7. On the Colour Box set
Top Box to colour choice
Bottom Box - Black
Through the Gradients find the FOREGROUND-BACKGROUND
Change the STYLE to sunburst
Back to the PRESET SHAPES...RECTANGLE
Draw a banner to fit the rectangle



Go to UNPLUGGED EFFECTS...TV RGB

ACTIVATE the BLACK RECTANGLE
Go to SELECTIONS...SELECT ALL...FLOAT...DEFLOAT
Activate the BANNER
now
MURA'S COPIES...LINE
Change WRAPAROUND to TILE
Amount 5
Tile Gap 14
Selections None
8. Copy your tube and paste as new layer
Position on the right hand side of the black rectangle
Using the SELECTIONS TOOL...RECTANGLE, Trim off the edges from the base and the right side only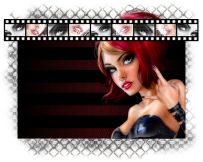 Duplicate the layer...IMAGE...MIRROR
Open up the FRAME
Activate the FRAME layer...copy, paste as new layer and Duplicate
X out one for now
MIRROR...IMAGE and RESIZE 85%
Position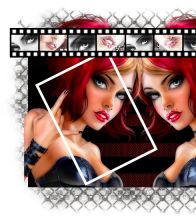 Copy the BLACK layer and duplicate, X out a copy
Move one copy under the tube layer and repeat the mirror and resize
Go to VISMAN EXTRAVAGANZA...TRANSMISSION...DEFAULT SETTING
Change the BLEND MODE from Normal to DISSOLVE, lower the opacity to 70
ACTIVATE the FRAME and MAGIC WAND...FEATHER 0
Click in the frame
SELECTIONS...MODIFY...EXPAND 2
INVERT
Back to your tube
Hit Delete
Selections None
APPLY the same XERO...RADIANCE and COLORISE 0/0 settings
9. ACTIVATE the LARGE BLACK RECTANGLE
SELECTIONS..SELECT ALL...FLOAT...DEFLOAT
INVERT
Un X out the MESH layer copy
Hit Delete
Selections None
Move this layer just under the Film Strip layer
Now Merge all layers that are visible!
10. X out the FRAME and BLACK layer, move these layers above the FILMSTRIP
On the Frame layer, Go to UNPLUGGED SHAPES...CHECKERED FLAG
Change
Scale 6
Black Brightness 0
Position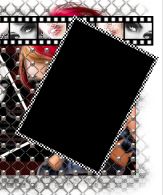 Duplicate your tube and move this in between the frame and black layer and repeat the step to get your tube into the frame.
Apply XERO...RADIANCE


ACTIVATE the Black layer
SELECTIONS...SELECT ALL...FLOAT...DEFLOAT
Add a new a layer above this layer

Back to your AIR BRUSH
Set the same colour you chose for the gradient mix earlier
Now spray a wavy line top to bottom, try not to fill the enitre section up

Duplicate the layer so you have 3 copies

On the MIDDLE copy
Go to VISMAN EXTRAVAGANZA...TRANSMISSION
Line Width 2
Contrast 73
Change the BLEND MODE from Normal to DISSOLVE

DO NOT DESELECT
Add a new layer above the top spray layer
Change the colour to Black
lightly spray around the edge of your tube, you do not need to be neat!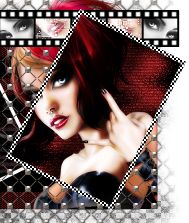 Selections None
Layers Merge Visible
11. Open the Bling and Skull
Copy and paste as new layers
Position the Skull and Bling at the top of the frame
Keep these layers at the top of the pallette



Duplicate the Skull, leave for now
12. Back to your tube choice, copy paste as new layer...resize if needs be
Position on the left side of your tag
Add a DROP SHADOW
Vertical 5
Horizontal 8
Opacity 80
Blur 15
13. Back to MY FILMSTRIP, copy the SINGLE STRIP
Paste as new layer and position at the base of the main tag with a single square overhang each side
Move this layer under the bling layer

Go back to the Skull copy...IMAGE...RESIZE 85%
Move to the left hand side of the Single Strip

Add a DROP SHADOW to both Skulls
Change the Vertical / Horizontal 0
14. Open up your font
I used BAUHAUS 93...SIZE 80...STROKE WIDTH 2
Set the Colour Box
Top White
Bottom Black
Apply your font and position

ACTIVATE the MAGIC WAND...FEATHER 0
Holding down the SHIFT KEY, click in each of your letters
Back to the AIRBRUSH using the same colour you used previously, spray through it randomly
Selections None
Add a DROP SHADOW
Vertical / Horizontal 0
Opacity 100
Blur 3
Open up the ROCK OUT tube
Copy paste as new layer above your name and position so the bling curves around the T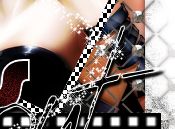 Merge All Layers Visible
SAVE!!!
Please feel free to print it out for your own personal use or link too, but do not copy it in anyway to put on-line, pass out or re-write without any permission.
Any resemblance to any other tutorial like this is purely coincidental.
This tutorial was written by TYLERESS
May 19th, 2011