This tutorial was written in PSP7

For this tutorial, you will need :

Bold Font
My Supplies :
Christmas Cake Pattern
Robin Tube

Eyecandy

1. Open new image 450 x 250

2. Open the cake pattern
Through the pattern box, find the pattern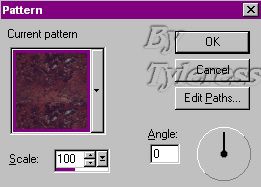 3. Open up your font, using the settings shown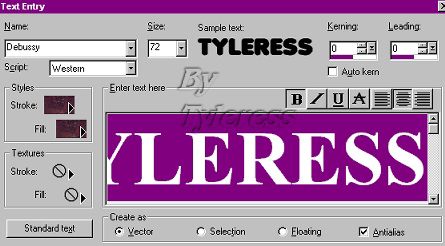 Using your Vector grid, pull down to make your text longer.


Convert to raster.

4. Go to EFFECTS...3D EFFECTS...INNER BEVEL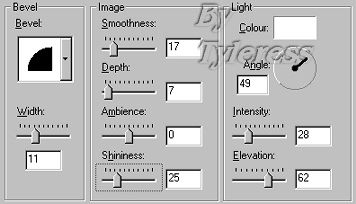 5. Duplicate the layer
Activate the top layer
Go to SELECTIONS...SELECT ALL...FLOAT...DEFLOAT
MODIFY...EXPAND by 1
Set the box colour to White
Activate the Flood Fill and fill.
Selections None.

6. Activate the bottom copy
Go to EFFECTS...3D EFFECTS...DROP SHADOW

Vertical 4
Horizontal -1
Opacity 29
7.1

7. Activate the top copy
Lower the opacity of the layer, so you can see the cake underneath
Activate the Lasoo Tool
Create a wavy section as shown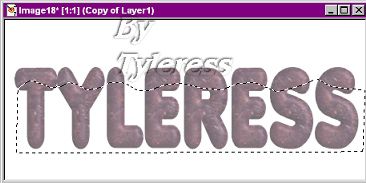 When happy, hit delete.
Selections None
Up the opacity back to 100.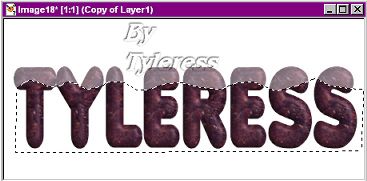 8. Go to EFFECTS...PLUGINS...EYECANDY...MELT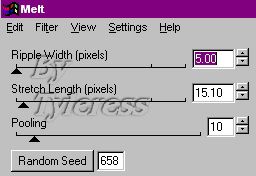 Now
Repeat the Inner Bevel we used in step 4.
Add a Drop Shadow

Vertical -4
Horizontal -1
Opacity 38
Blur 3.5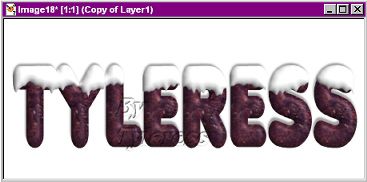 9. Open up the Robin tube
Copy, paste as new layer
Position
Repeat the previous Drop Shadow

Layers Merge Visible

SAVE

Please feel free to print it out for your own personal use or link too, but do not copy it in anyway to put on-line, pass out or re-write without any permission. Any resemblance to any other tutorial like this is purely coincidental.
This tutorial was written by TYLERESS, OCTOBER 22ND, 2003