TUTORIAL - HOT CROSS HUN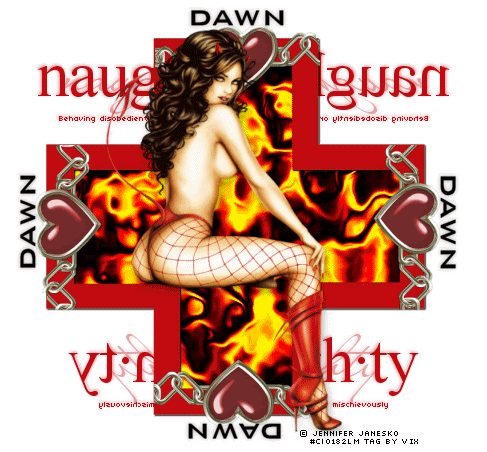 for my friend Dawn who's not been tagging long, but produces
gorgeous looking tags
and with thanks to my other half for the tut name lol!
SUPPLIES NEEDED
Tube of Choice - I'm using the stunning artwork of Jennifer Janesko!!
Kudos CILM lol! If you would like to use the same image
you must purchase a licence from CILM - www.creativeimagelicensing.com
PSP Preset Shape - I'm using one from a Preset Shape set called Objects.PSPShape
Mura Meister Cloud plug in filter - available HERE
Brushes - A phrase or Word Art of your choice.
Accents or Embellishments - I'm using some made by Melissa at Scrappy Expressions HERE
OK - ready to go....
New Image 550 x 550 White Background
Using your Dropper tool, select a colour from your tube.
Set as Foreground.
Now, Preset Shape - Cross 1
Line Width 3
Draw out your shape and size to your liking.
Objects, Align, Center
Convert to Raster.
OK, Now Copy and Paste your Tube as new layer
Position where liked and add a dropshadow of choice.
Now, with your Magic Wand 0 Tolerance, click inside the cross
and Expand by 4
Now, go to Mura Meister Cloud, drop down the Preset Menu and look
for Fire 1
Apply
Now Keep Selected and add a New Raster.
Repeat as above, but in Clouds, change the Amount from 100 to 102
Add new Raster Layer
Repeat Again, but change amount from 102 to 104
Deselect.
You should now have
White background
Clouds 1
Clouds 2
Clouds 3
Tube
Like this...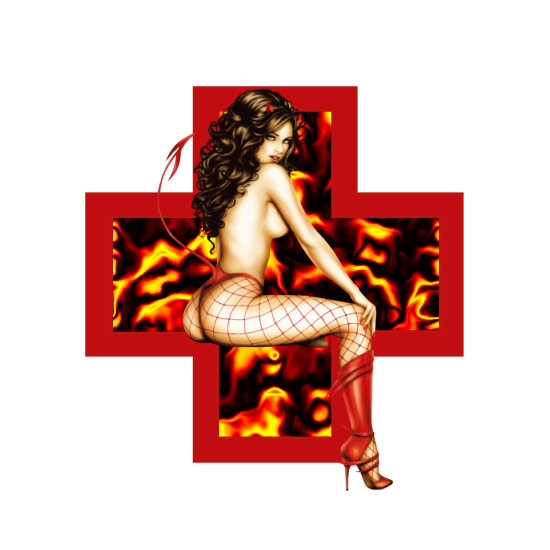 Right - time to add embellishments...
I used HS_Element_Charms_05 and colourized the heart
to more of a shade like my tag
Then I resized, copy and pasted on the top of my cross
Then Duplicate and Image Rotate 90 - Place on
the right side
Repeat and place on the bottom and once more and place
on the left.
Now - on the cross layer. Click outside of the cross
and Selections, Modify, EXPAND by 3 or 4
Take your Eraser and rub out the excess chain on each layer
(or you may choose to Merge the Chain layers - your choice lol!)
OK, now New Layer
just above the white background
take your Brushes in a complimentary colour
and place your brush on the Top Left and Bottom Right of your tag
Duplicate
Image
Mirror
You'll now have brush work on all four corners...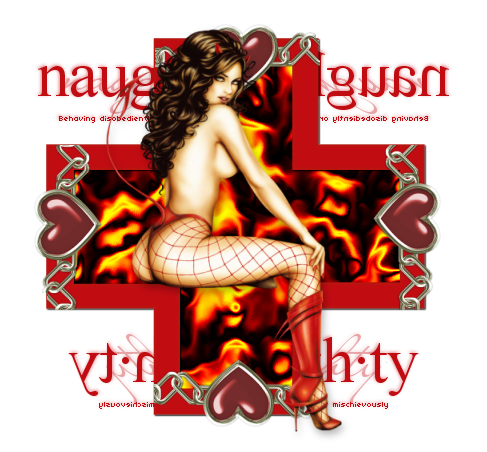 Nearly finished LOL!
Ok, add your copyright info, licence etc
and now for some text
I used Bank Gothic, Stroke Width 2, Fore and Background both on Black
Type the name fairly small and place on the top of the tag.
Repeat the process you used for the chains so the name is on
each of the 4 cross parts.
Ready to Animate?
Guess how?
Yep, you've got it.
It's my usual - 3 layers of animation way lol!
Hide 2 of your Cloud layers.
Edit Copy Merged
In A/S, Paste as New Animation
Back in PSP, change the Cloud layer - hide the other 2 and repeat
as above but Paste After Current Frame
Do the same with the 3rd layer of Cloud.
OK, in A/S Edit Select All
Animation - Animation Properties, Opaque White
Animation - Frame Properties - 40
Happy with the speed? Good - then save as .GIF
You're finished!
Thank you for trying my tutorial - here's one I did with no
Stroke Width on the name too..
This tutorial was written on 18th February 2007 by Vix (blendyvix in MSN)
It is to the best of my knowledge an original conception of my own and
any similarity to another PSP tag tutorial is coincidental and wholly unintentional.