TASTE OF THE SEASON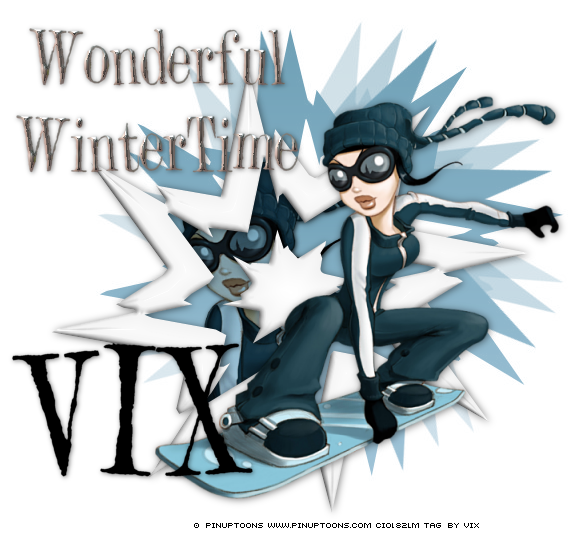 This is a very simple-ish tutorial, which depending what colours and tube
you use, can be quite a pleasing result :) Sorry, I'm rubbish at bigging up my own work lol!
Anyone who knows me knows that I can't bring myself to make Christmas tags
until at least December 1st (!) but I do like winter tags too, so this tut is - as
the name suggests - just a taste of the season to come hehe!
SUPPLIES NEEDED
Tube of your Choice - for my main example I'm using
Artwork © Rion Vernon aka Pin Up Toons
In order to use the image in this tutorial you MUST purchase it from
If you don't wish to purchase it, please feel free to use a different tube/image.
Template and Wordart - made by me, download HERE and HERE
Please don't use these for any other tag tutorials - thank you x
Mask - by me HERE
Scrapkit of Choice - optional and only if you want to decorate your tag
_________________________
Open the Template I've provided
As you can see, I've even selected it and expanded all ready for you
Saves me typing that bit out lol!!
Right ok, so choose either a colour from the tube
or a gradient made from two of the tube's shades
or perhaps a scrapkit paper
If using a paper - copy and paste, place under the Shape layer
and then hit Selections, Invert and then Delete on the Paper layer
BUT
If using a colour or gradient
Simply floodfill on the layer indicated on the Template
KEEP Selected
Choose the tube you wish to use - full size, don't resize
Copy and Paste as New Layer
under the shape but above the filled layer
Place where looks best so that the face of the tube shows
I went for the left side of the shape
Once placed, hit Selections, Invert and then Delete
on the tube layer
Selections None
Add a new Raster Layer at the bottom and floodfill White so you
don't get checkered vision.
On the tube layer, add a subtle dropshadow - you can add a larger
one if prefered, but if the shadow pokes out from below the shape
layer then use your Magic Wand to select the shape inner, and then
do a SID (Selection, Invert, Delete) on the tube layer once more
OK
Now change the blend mode to either Soft Light, Burn, Multiply or Luminance Legacy - whichever you prefer.
If you're using a very pale paper, leave as it is.
Copy and paste the tube once more, but this time
resize about 80% or so
Place to the right (or vice versa depending on your original tube placement)
and add a deeper dropshadow
(I'm not quoting drop shadow numbers this time, so if you check back on a few of my tuts you'll
find some good ones, a deep one and a subtle one, which you can save to your Drop Shadow presets and use
in the future xx)
Now add a new Layer at the bottom of the Layer Palette
Floodfill with the colour or gradient again - or use a 2nd paper
and then
apply my mask - Vix_Mask296
Layers, Merge Group
and then move the mask around to where looks good
I moved mine, slightly up and to the right
Now on the Shape layer
apply the same dropshadow as the main tube
Copy and Paste my wordart as a new Layer
Place as prefered and add a subtle dropshadow
Add your name now in a style, colour and font of your choice
Subtle shadow as before
You can now add any elements/embellishments if liked
(particularly if you used scrapkit papers as your mask layer and fill layer)
Add your Copyright/Artist info now
Crop the Canvas down to a more taggy size
Delete the White Background layer - Don't do this if you're animating your tag though or if your browser
doesn't show transparent PNG's properly - mine never did 'til I upgraded to IE7 -
and save as a transparent PNG file.
That's it - all done.
You might like to do an animated version of this tut, perhaps add
some noise to the shape layer for a glittery effect...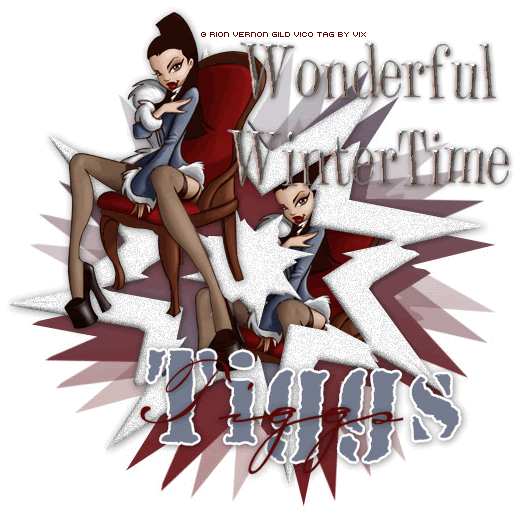 or even
some snow on the inner part of the shape
using the standard 3 layer animation method for tags that - again - I've
done lots of times in my other tuts...
Anyhooooo - thanks for looking and if you try the tut, enjoy xx
This tutorial was written on 27th November 2008 by Vix
It is a tutorial based on a tag of my own design and
any potential similarities to other tag tutorials that
may be available is wholly unintended and completely coincidental.
Any items supplied to use to create your own tag with this tutorial are supplied
in good faith - if I have used something not intended
for usage in this way, please contact me via email.
Any items created by me for the purposes of this tutorial MAY NOT be used in
any other tag tutorials. (This doesn't include my masks - which may be used in other tuts)
Links to tube/scrap supply sites are added either through necessity or courtesy
and it is entirely up to the individual if they choose to visit these sites.
Scraps used in my tutorials that I've obtained from PTU scrap sites are NOT supplied
in my tutorials
This website is intended for educational/entertainment purposes only
NO linking to my tut examples, screen shots, files or graphics permitted
All of my tutorials are registered with TWI