SHAPE UP
Tube of Choice - I'm using another fab one by Rion
Artwork © Pin Up Toons
If you wish to use the same tube you must purchase it from CILM
However feel free to use whatever you have
Font - 60's Chic by Jess @ Blue Vinyl Fonts HERE
Mask - by me - Vix_Mask219 HERE
Xenofex 2 Constellation
Filters Unlimited 2 - Special Effects 1 - Halftone
VM Extravaganza - Transmission
____________________________
Open a New Image in 650 pixels wide x 600 pixels high
Go to your Text tool and find 60's Chic
Have your Materials Palette on Black Foreground and Null Background
Stroke Width 2.00
Create as: Vector
Type out the letter e
Stretch to fit the tag canvas better - see my tag for size reference
Objects, Align, Centre in Canvas
Layers, Convert to Raster Layer
Duplicate the layer
Image, Free Rotate, 45 degrees Right
Image, Resize, 80% Smartsize
All Layers Resize NOT ticked
Hide the White Background layer
and Merge Visible the two shape layers
Unhide the White Background
Duplicate the shape layer
Rotate and Resize as before
Hide the White back and Merge Visible as before
Unhide the White Background
Hopefully, your shape should be looking v.similar to mine.
If not, try again and see if you get similar results.
Right, we're going to be filling different sections of
the shape with different colours and effects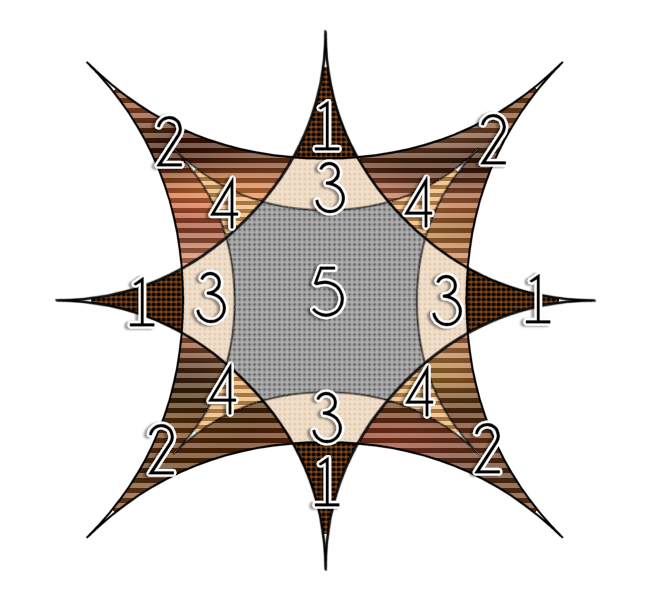 Take the first colour to compliment your tube
I chose a dark brown shade
Now, using Magic Wand on 20 Tolerance and 0 Feather
Click inside the top, left, bottom, and right point of the shape (1)
Selections, Modify, Expand by 2
Add a New Layer below the shape layer
and floodfill with the colour
Duplicate the floodfill and on the top one
Filters Unlimited 2 - Special Effects 1 - Halftone
and
then Change the blend mode of the top one to Overlay
Selections None
Take a different shade to compliment the first colour
Click inside the corner shapes (2)
Expand, New Layer and Floodfill as before
then
Apply Eye Candy 4000 HSB Noise as per my settings;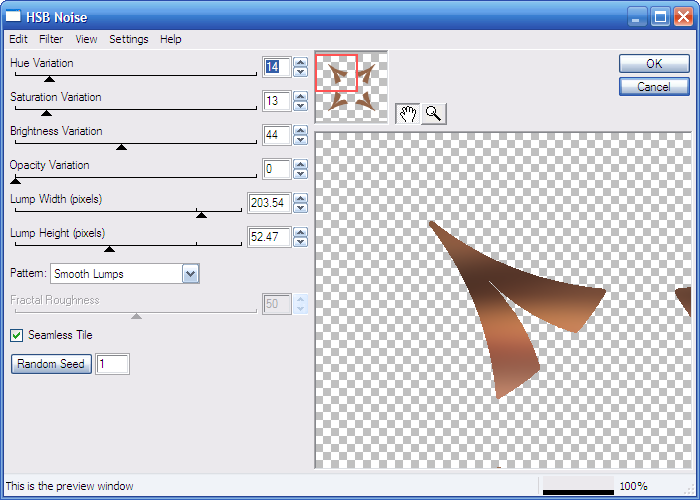 then
VM Extravaganza - Transmission
on the default settings
Selections None
You'll notice the the tips of the shape aren't getting filled - not to worry, this will
be sorted in a minute :)
Choose another shade to compliment the others
Click inside the shape on the place I've indicated as (3)
Expand, New layer and floodfill as before
then
Apply the Halftone filter on a duplicate layer as we did before
and change to Soft Light
Selections None
Click inside the inner points as I've indicated with (4)
with another shade of choice
Select, Expand and New Layer as before
and
Apply the Transmission filter as before
Selections None
Finally,
Select the inner part of the shape as indicated by (5)
and floodfill with a dark grey shade or one of your choice
apply the Halftone filter on a duplicate layer as before
and change the blend mode of this layer to Soft Light
Selections None
Now, hide the shape Layer and the White Background
and
Merge Visible the coloured sections
Unhide the Shape and White Back layers
Now
Duplicate the coloured sections layer
and on the bottom copy
Adjust, Blur, Gaussian Blur, 10.00
then
Effects, Texture Effects, Mosaic - Antique on these settings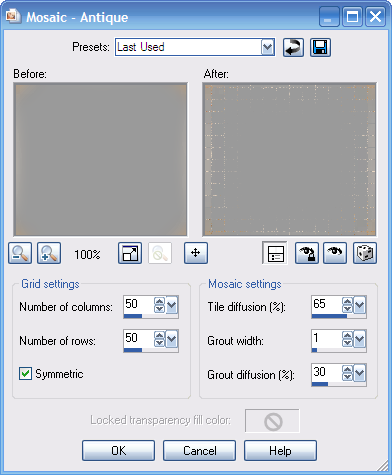 OK to apply
Now
On the Shape Layer
Apply Xenofex 2 Constellation on these settings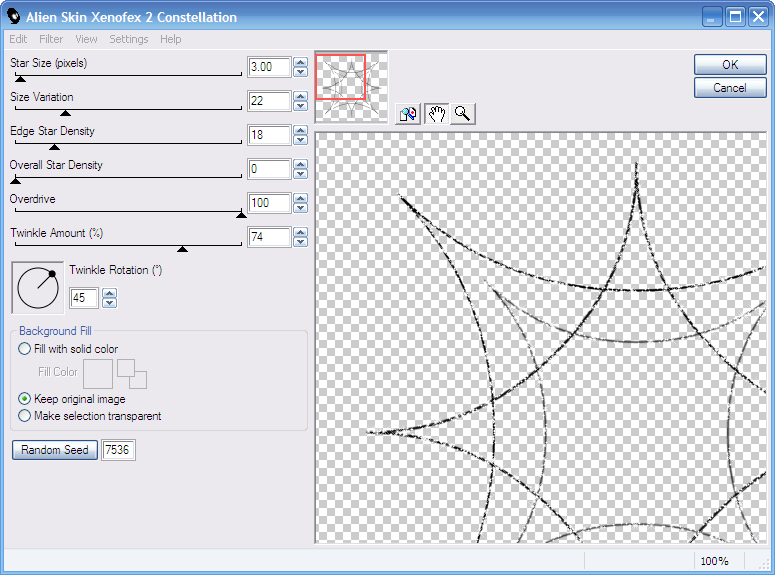 See, the gaps don't show now :)
(Tip: If you'd like to animate this - like I did with my 2nd example - then duplicate the shape layer
and apply the effect on each of the three layers, Random Seeding each layer as usual for a 3 layered animated tag
Don't forget to dropshadow each layer when the filter has been applied)
Apply a Dropshadow of
1, 1, 45, 7.00 Black
Now, copy and paste your tube as a new Layer
above the others
and apply same shadow as before
Add a New layer above the White Background
Take two shades from the tag - make a Foreground/Background gradient
Linear, with a 45 Angle and a Repeat of 1
Floodfill
and Apply the mask - Vix_Mask219
Layers, Merge, Merge Group and
Move the mask down the tag canvas a little
(Tip: if liked, apply the same Xenofex setting to the Mask layer)
Finally, add your name in a font and style of choice
I used TS Curly Size 72
Dropshadow as liked
Crop the tag canvas now
then
apply the Artist info/copyright info
and
Delete the White Background and save as a PNG
(OR, if you've animated your tag, don't delete the White Back and take to Ani Shop
and make your 3 layered animated GIF - Frame Properties on 15
and Animation Properties on Opaque, White)
Thanks for Looking and hope you enjoy xx
This tutorial was written on 14th January 2010 by Vix
It is a tutorial based on a tag of my own design created
this morning and
any potential similarities to other tag tutorials that
may be available is wholly unintended and completely coincidental.
Any items supplied to use to create your own tag with this tutorial are supplied
in good faith - if I have used something not intended
for usage in this way, please contact me via email.
Any items created by me for the purposes of this tutorial MAY NOT be used in
any other tag tutorials.
Links to tube/scrap blogs or sites are added either through necessity or creator courtesy,
and it is entirely up to the individual (ie. You!) if you choose to visit these sites and/or download/purchase from them.
Scraps used in my tutorials that I've obtained from PTU purchased scrap kits are NOT supplied
in my tutorials supplies.
This website is intended for educational/entertainment purposes only
NO linking to my tut examples, screen shots, files or graphics permitted
All of my tutorials are registered with TWI