SEASON OF THE WITCH VOL 3
The final installment in the trilogy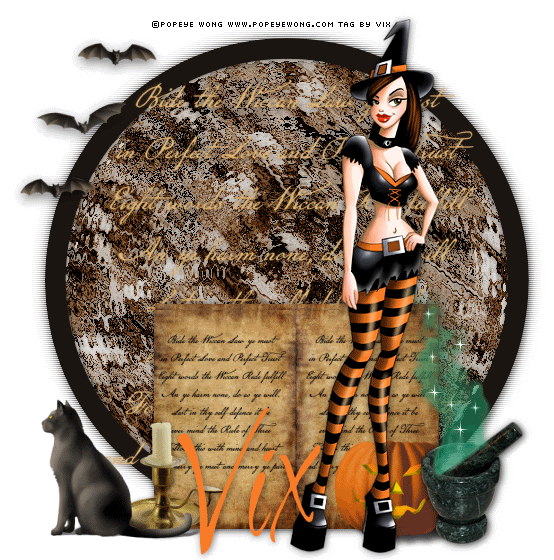 Supplies Needed
Tube of Choice - I'm using one by the fabulous Popeye Wong
I can't active link his site as it's adult..but you know how to find him :)
Hallowe'eny supplies
I used a pestle and mortar, candlestick and book
which was shared with me by Teresa aka Sweet Surrender - thank you hun x
I am sure you've probably got some lovely supplies yourselves so
use whatever you fancy or have available to you
Bats, Pumpkin and Cat - made by Corel and available as part of
their Hallowe'en download HERE
(You place them in your PSP Tube folder and you'll
find them in your Picture Tube tool)
Paper - well, technically made by me!
I used some tarot cards
that I got from gawd knows where, cut them out, filtered them and made a paper out of them.
If they're yours, please let me know via email if you'd like credit for the original cards, or
the removal of this paper from this tutorial.
Please don't go off all guns blazing - a simple email will suffice
Brush - made by me - HERE
Export this to your PSP Brush file to use it
All other supplies can be downloaded below
The size is big due to the size of the tubes
Filters Needed for this tut -
Video Rave (Harry's Filters) - Wonderland filter - freeware
Xero Graphics - Porcelain - freeware
Flaming Pear - Transline - optional
Google if you don't have these filters.
This tutorial is intended for taggers with a good knowledge
of working with layers and Animation Shop.
Note - There are many fabulous Hallowe'en inspired kits about, with
elements very similar to the ones used here
In fact, I used a paid kit in the original tag made of this tutorial.
If you have that one - use it instead but I supplied other elements
to let those who don't have it, still be able to do this tut.
_________________________________________
Open a New Image White Background 600 x 600
Using your Preset Shape - Circle (Ellipse)
Line Width 21.00 and a dark colour of your choice
Draw out a circle as large as prefered
Objects, Align, Centre in Canvas
Convert to Raster
Open the Paper I supplied, or a paper of your choice
Paste as New Layer under the Circle
Using Magic Wand, click inside the circle
and Selections, Modify, Expand by 3
Selections Invert
and on the paper layer
Delete
Selections None
Apply the Xero Graphic Porcelain on the default settings EXCEPT
change the Blue Slider to 0 so all three of the bottom sliders
are on 0
Adjust, Brightness and Contrast and
move the sliders so the paper is slightly or more darker
Duplicate the paper layer 3 times to total 4 and leave for now.
Open the tubes and elements you are going to use
Now, go nuts LOL!
Place them and size them as prefered
Add dropshadows
For the book tube
Resize 60% twice
Place in the middle bottom
Move the top layer down a bit
Merge the two book layers together
and dropshadow
Candlestick - resize 60% twice
and then a bit more if needed
Shadow
Pestle and Mortar - if you use
the resized and smoke one that
I provided
then just place as it is
and shadow
(if you've got the kit that supplies curtains,
add them below the circle layer
duplicate
move the duplicate above the circle layer
and then erase the top copy bits
that you need to
See my 2nd example at the bottom of this tut
for reference)
Duplicate the circle layer
Move this to just above the white background
and Adjust, Blur, Gaussian Blur 7.00
Flaming Pear, Transline, apply.
(If you don't have this filter, try VM Extravaganza, Transmission
or even PSP Effects, Texture Effects, Blinds)
On the top circle layer
apply a good shadow to that
Try 1, 1, 55, 10
Find my Brush that I supplied
choose a much lighter colour from the tag
as it's colour ( I actually used light and then adjusted Brightness)
and below the book layer
stamp it out in the middle of the tag
Now, change the colour to black
and resize the brush to about Size 152
and now on a new layer
above the book layer
Stamp it out on the page
Duplicate and move over the right page
Add your name in a scripty/spooky font of choice
Add the copyright that's required
Now to prepare the tag for animation
On the first paper layer - apply the Video Rave, Wonderland filter
apply the following settings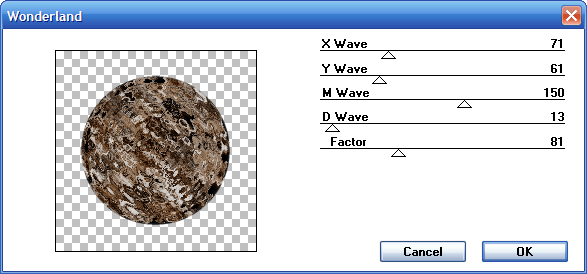 On the 2nd paper layer - adjust either of the top two sliders
to change the settings - apply
Same for the 3rd
And on the 4th - leave as it is.
Ready To Animate?
Animate my usual way (see my how to page for reference)
but obviously this time it's a 4 layered animation
not 3.
Edit, Select All in Animation Shop

Animation Properties, click Opaque and change to White
Frames 1 - 3 (the video rave layers)
change the Frame Properties to 30
Frame 4 - the non video rave layer
change the Frame Properties to 150
View, Animation
Save as .GIF
On the original version of this tutorial tag, I used subtler settings
for the Video Rave filter (I can't remember what the settings were!)
This tutorial was written on 9th October 2007 by Vix
It is a tutorial based on a tag I made
and any possible similarity to other tag tutorials
that might be available is wholly unintentional and
completely coincidental.
The supplies I share are shared in good faith.
If you see anything used within my tutorials that
you personally know for certain wasn't intended for such usage,
please contact me directly via email to
let me know.
This website is intended for educational/entertainment purposes
NOTHING (unless tutorial supplies
or a tag made personally for you) is to be removed from it.
All of my tutorials are registered with TWI.