SEASON OF THE WITCH VOL 2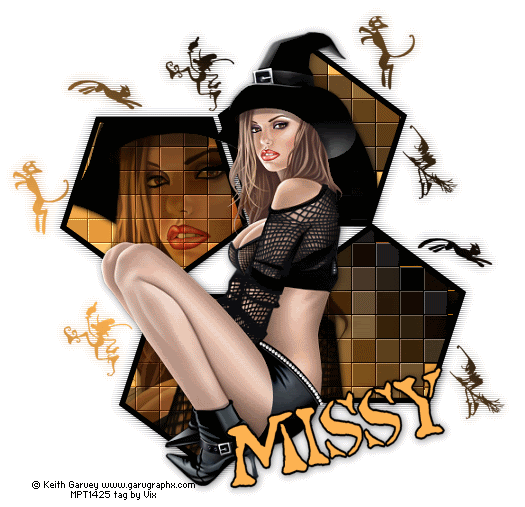 This is quite a simple tut but can look rather groovy lol!
Supplies Needed
Tube of Choice - I'm using the new choobs by Keith Garvey
If you'd like to use the same, you must purchase them for usage
You can obtain them HERE
Templates made by me
Flaming Pear Transline
(optional, if you haven't got it - use PSP built in effectmTexture, Blinds instead)
Xero Graphics Fritillary filter - freeware from Xero Graphics
Open the shape template
Duplicate layer
on the Original layer
Adjust, Blur, Gaussian Blur 5.00
Apply Flaming Pear Transline - default settings
On the copy layer
click inside the hexagons with your magic wand
Selections, Modify, Expand by 2
Add New Layer below this layer
but above the Translined layer
Materials Palette - Foreground on Black
Background on #feb251
Find your Foreground/Background gradient
by clicking on the colour, Other, and Gradient
and put it on Angle 45 and Repeats 2
Floodfill the new layer selected with this gradient
Keep selected
Duplicate the gradient floodfill twice
to total three layers
and apply the Xero Graphics fritillary on the following settings
On the 2nd gradient layer - change the Variation slider to 29
on the 3rd gradient layer - change to 31
Keep Selected if adding a larger image inside the hexagons
Selections, None if you're not lol!
All of these layers should be below the main template layer
and above the transline layer
If you're adding a larger tube/image inside the selections
then Paste as New Layer (below the main template and
above the fritillary layers)
Line up as liked
Selections, Invert, Delete
Selections None
now dropshadow subtlely and change the Blend Mode
on this layer as prefered
(I used Multiply)
Paste your Tube of Choice
Position as mine or similar
Dropshadow and Resize as prefered
Your layers should be arranged like this...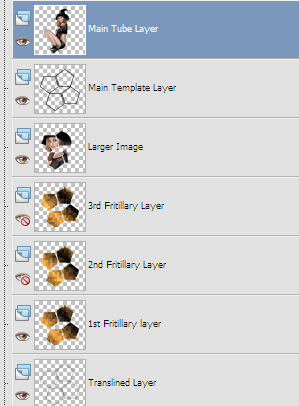 Open the Brush layer I've supplied
Copy, Paste as a New Layer
just above the White Background layer
and Line up as mine
Duplicate
on the Original Layer
Adjust, Blur, Gaussian 5.00
and apply the Transline again
(if you don't have this, play with your Effects,
Texture Effects, Blinds and get a similar result)
Add your Name as prefered
I used Black 2.00 Stroke, and #feb251 Fill
and Strangeworld font
Rotate the name, dropshadow as liked
Add copyright info etc
Crop the canvas now
Ready to Animate?
Animate my usual - follow all the steps including
White, Opaque for the Animation Properties
Set the Frame Properties to 25 or slower
Save as .GIF
That's it - simple tut, which I hope you enjoy
Hugs xx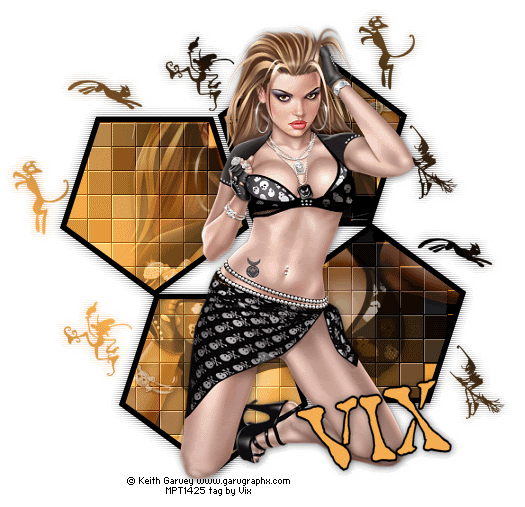 This tutorial was written on 3rd October 2007 by Vix
It is a tutorial based on a tag I made
and any possible similarity to other tag tutorials
that might be available is wholly unintentional and
completely coincidental.
The supplies I share are shared in good faith.
If you see anything used within my tutorials that
you personally know for certain wasn't intended for such usage,
please contact me directly via email to
let me know.
This website is intended for educational/entertainment purposes
NOTHING (unless tutorial supplies
or a tag made personally for you) is to be removed from it.
All of my tutorials are registered with TWI.