SEASON OF THE WITCH VOL.1
Supplies Needed
Tube of Choice - there are lots of fantastic Hallowe'en tubes
available and I'm using this delicious one by the fabulous Popeye Wong
Masks - two are being used in this tutorial
The first is by Sugar from ThruSugar'sEyes - she's no longer online *sob*
Come back soon hun!
and the 2nd is by Vaybs from HERE (thank you too hun xx)
Thank you both xx
(Both are included in the zip supply file below)
Objects - Grass, Tombstone and Cauldron by Billy from PSPTubeDepot HERE
Lawn - came supplied with PSP.
and add it to your My PSP Files - Picture Tube folder so you
can dab it about the canvas rather
than place it as we normally would
Filters Needed
Eye Candy 4000 Smoke
Filters Unlimted 2 - photo aging kit (or any sepia toning filter if you haven't got it)
Open the elements you are going to use
Open Canvas size 600 x 600 White Background
Copy the Cauldron and paste
as a New Layer
Resize 60% Smartsize
then Adjust and Brightness and Contrast settings...
Brightness (-31) and Contrast (11)
Open the tombstone
Resize 60% Smartsize and place on the other side of the tag
to the cauldron
Open your Tube
Place in the middle of the tag
Go to your Toolbar, look for the Picture Tube tool
and find Lawn
Add New Layer and
Dab the tube around until
you get a cluster of lawn that
you like
(if you get ones you don't like - just hit the Undo arrow
and then dab again until you get what you prefer)
It's very green at the mo, but we're going to change
that in a min hehe.
Open the Hallows Grass 8
Resize 60% Smartsize and place to the left of the tombstone
Open the Hallows Grass 6
Resize 60% Smartsize and place in front of the tombstone
Duplicate and move the grass over
Now, we're going to recolour the lawn to
compliment this shade of grass
So, FU2, Photo Aging Kit, Old Colour, default settings
(if you haven't got FU2, use a different sepia toning filter
or even just Adjust, Hue and Saturation)
Hopefully, your tag is taking shape and looking a bit like mine :)
Now New layer above the white background
FloodFill with Black
Look for Sugar's mask lunamask3_sugar
and invert transparency ticked
Apply and Merge Group
On this same layer look for
vaybsmaskhw03 - invert transparency ticked
and Apply
Merge Group
On this layer, gently erase the mask that is sticking out under
the lawn
Now time to prepare our tag for animation
Your layers should be from the bottom up
White Background
Black Mask Layer
Cauldron
Tombstone
Large Grass
smaller grass 1
smaller grass 2
Main Tube
Go to the Cauldron layer and dropshadow it
Duplicate it twice to total 3 layers
Take your Selection Tool - Lasso
Set to Point to Point - Feather 2
and use your zoom tool to zoom in
close to the cauldron
and on the 1st layer
take your Lasso and select around the top of
the cauldron (we want the inner bit selected)
so you'll end up with a squashy horizontal oval selection
OK
Now apply the Eye Candy 4000 Smoke
look for the Preset - Green Fumes
and apply the following settings exactly as mine are -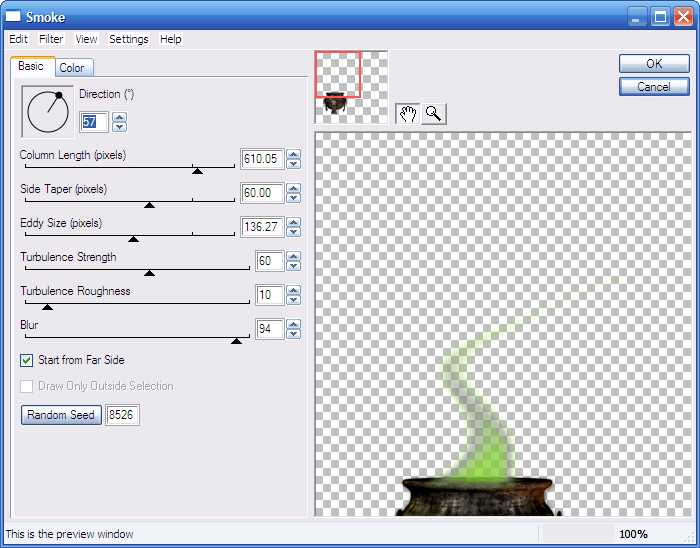 OK, now you should have lovely green wispy smoke
at just the top of the cauldron?
Apply to the 2nd and 3rd cauldron layers
and hit the Random Seed button as liked
(check how the smoke is moving and apply
when the shape is how you like)
Now for finishing touches
Add any further Hallowe'eny scraps/elements you
wish to add (I added some bats)
Add dropshadows to main tube, tombstone
and any other bits you'd like to shadow.
Add your name in a spooky font of choice
Add copyright info etc
Now crop the canvas if needed
Ready to Animate?
Animate my usual way
but - important! - make sure you have the Animation Properties
on Opaque, White so you don't get a faint coloured box around your tag
and the Frame Properties on 35
Save in A/S as GIF
Save in PSP as PSPImage so you can animate again
with a different tube next time :D
Hope you enjoy this tut xx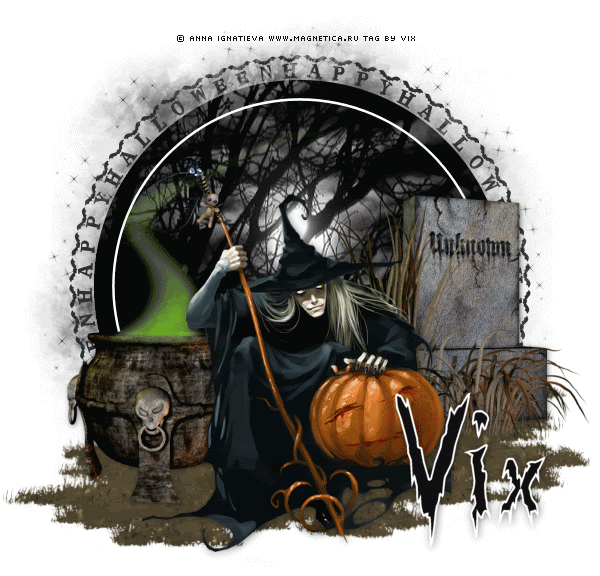 This tutorial was written on 23rd September 2007 by Vix
It is a tutorial based on a tag of my own design and any potential
similarity to other tutorials that may be available is wholly unintentional
and completely coincidental
This tutorial is being registered with TWI