MASKS
My Terms of Use
If you use these masks in a tag tutorial, please credit and link to my site.
If you use them in a tutorial, you are welcome to add the specific mask/s to your supplies.
You are also welcome to use them in Group challenges etc...just please don't change file names AND
please do not add these masks in bulk to file sharing sites and share them in groups/forums/blogs etc.
In other words, the place to download my masks in bulk, is here!
Please do not use my masks to create your own masks/or as the basis of your own masks for re-distribution to others.
Thank you xx
Please note that my masks...
Vix_Mask284
Vix_Mask283
Vix_Mask328
Vix_Mask353
Vix_Mask354
Vix_Mask358
are no longer available in the downloads.
I've kept the same previews though, so don't be surprised that some are missing when you download.
And if you see these 6 masks in use in tag tutorials or Group challenges etc, please don't use them.
31st March 2010
My latest set - Masks 441 - 455 plus 2 Easter Masks
These were my Valentine's masks for this year (from my blogsite) plus
a few more I've done. Most have been
previously available for download
via my blogsite. If you'd like them, please download HERE
Terms of Use and Credits/Thanks included in zip file.
22nd December 2009
My latest set - Masks 427 - 440
includes the Christmas Masks 2009
(Please note: These were on my blog so you may already have them
if you right clicked and saved from there)
Download from HERE
27th October 2009
Masks 416 - 426 plus the Hallowe'en 2009 masks
Download from HERE
18th September 2009
Masks 393 - 415
Download this set of masks HERE
13th July 2009
Masks 366 - 392
Download this set HERE
15th May 2009
Masks 346 - 365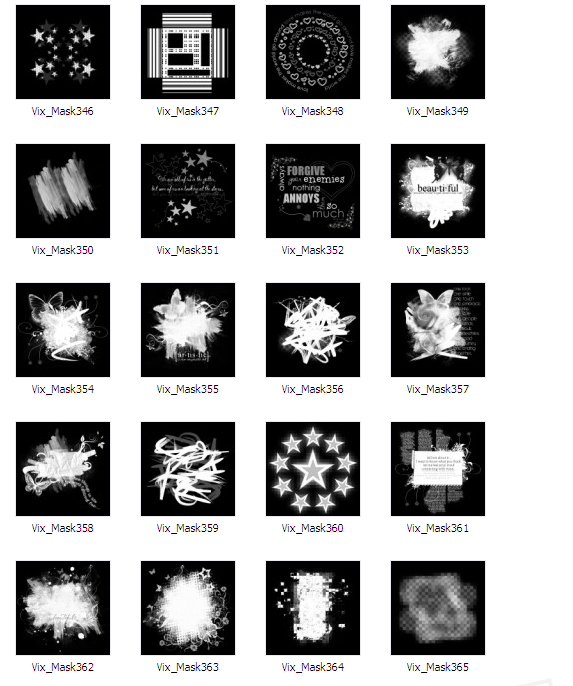 Download this set from my box.net HERE
Vix_Mask353, Vix_Mask354 and Vix_Mask358 no longer included in the zip
2nd March 2009
Masks 326 - 345
A little assortment - some hearts, a few florals (thanks
for the brushes Sandie) and lots of my
favourite things to make masks with - stars. These star ones
are like some of my earlier masks re-visited hehe!
Click to download HERE
Vix_Mask328 no longer in the zip
22nd January 2009
Masks 291 - 325 (not including Masks 297-306 which were the Christmas Masks)
An assorted bunch, 16 of which have a love theme so are good for Valentine's themed tags.
Download from my 4shared HERE
13th December 2008
This years Christmas masks from me - 10 in total
Download them from HERE
29th October 2008
Masks 261 - 290
Download the Masks from my box.net HERE
Vix_Mask 283 and Vix_Mask284 are no longer in the zip
3rd September 2008
Masks 246 - 260
You can download this set HERE
25th July 2008
Masks 231 - 245

Made from various brushes, shapes, fonts etc
Download HERE
(Hosted on my own website - not via 4shared)
12th June 2008
2 new sets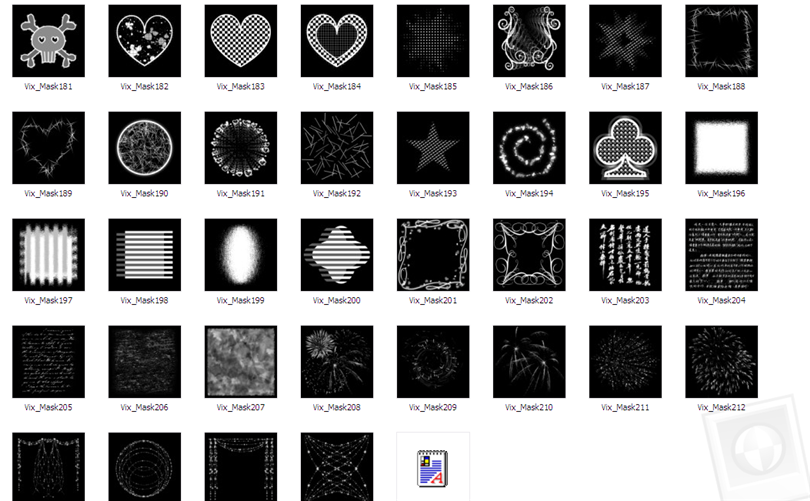 Two new sets for you to play with -
The first set is
a mixture of this n that.
The 2nd set is good for using as some background interest
in scrap tags.
Anyway, have fun
Click on the image of the sets above to download
10th May 2008
Vix_Masks 141-180
Made from various shapes, dings and brushes
Download HERE
19th April 2008
Vix_Masks 121 - 140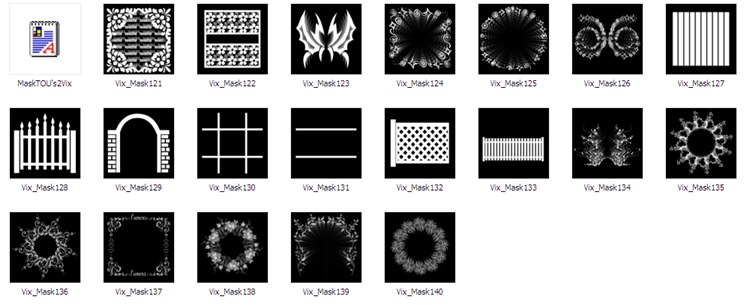 Download HERE
1st March 2008
Vix_Masks 101-120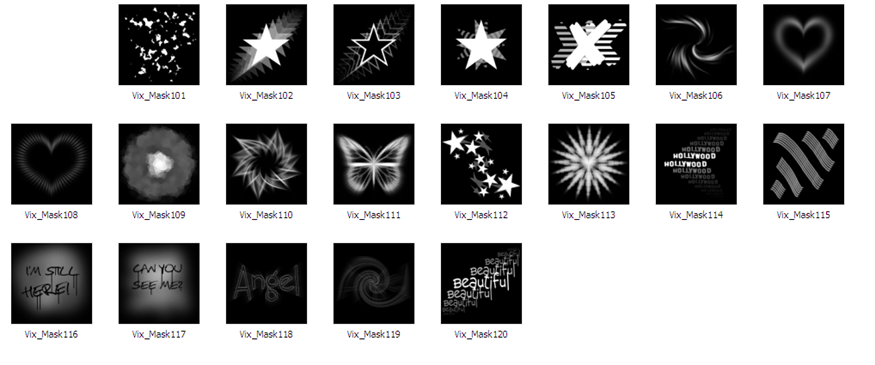 Download HERE
28th February 2008
Set of Image Masks - rounded edges, good for circular tags
Abstracts, Views and Flowers
Images courtesy of Stock Xchng www.sxc.hu
Download HERE
25th February 2008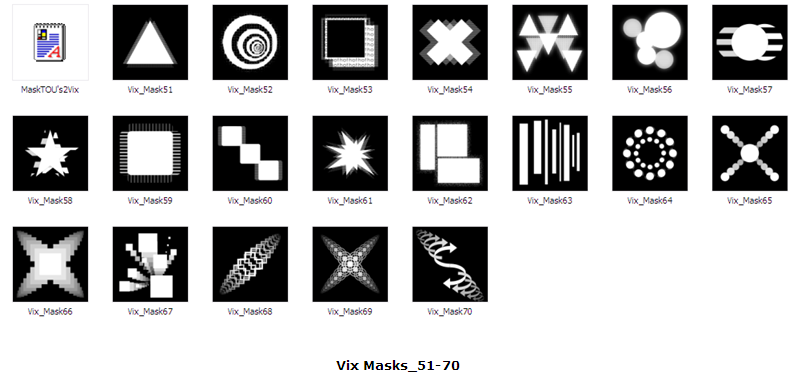 Download HERE
6th February 2008
Download these Masks from my 4shared HERE
26th January 2008
Love/Valentine - 11 masks
Please note: Vix_Mask_Valentine1 (the first mask lol!)
I didn't erase the edges of the canvas enough after
I inverted - so if
you apply the mask to a canvas, please go around the edges with your Eraser tool
to get rid of the excess mask that shouldn't be there xx
Sorry 'bout that, I didn't check it before I finished it
Anyway - have fun hehe xx
Download this set HERE
Link Updated 22nd April 2009 as old link expired
Thanks for letting me know Debbers
12th December 2007
Masks for Christmas - 9 masks
Download this Christmas Set HERE
Download this set HERE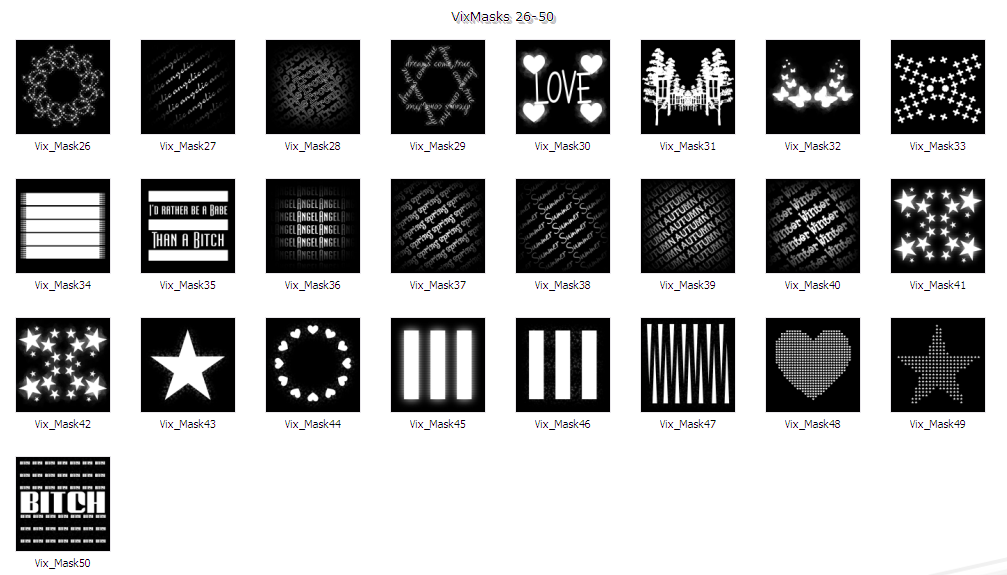 Download this set HERE
PLEASE NOTE
I try to be as original as I can with my masks, and have
used shapes, dings, PSP filter effects and some brushes to create them.
IF I have used something of yours that wasn't intended
for use in the creation of Masks, please contact me via my
website and I will happily remove the mask
from the collections with my apologies.