HALLOW HALO
SUPPLIES NEEDED
Tube/s of your Choice - I'm using a gorgeous new freebie from Zindy Nielsen - thank you Zindy, it's lovely xx
Go HERE if you'd like to obtain it and please read all the TOU for Zindy's free images
before you use it. If you've purchased Zindy's work from her shop you need to use
your personal ZZT number (like I did) but if you've never purchased from her,
please read what to do at the linked site above.
My Wordart - HERE, HERE and HERE
Please do not use these wordarts for any other purpose other
than your tag making. Don't use it for tut supplies, making templates for redistribution, scrapkit elements etc
I purchased the CU glitters ages ago and although freebies are allowed with it, please don't take my
work and make it your own.
Thank you xx
Mura Meister Cloud
Eye Candy 4000 Corona
Eye Candy 4000 Marble
Penta.com Colour Dot
Additional elements if liked (optional)
Font of Choice
_____________________________________
Open a New Image in PSP - 600 x 600 pixels
or smaller if you'd prefer
Add New Layer
Floodfill White
Leave for now :)
OK
Open a New Image
150 Width and 375 height
Floodfill Black
Selections, All
Selections, Modify, Contract by 10
Hit Delete
Selections None
Edit, Copy
and back the White Large Canvas
Edit, Paste as a New Layer
It should position it reasonably centrally - which is nice :)
Close the Black frame image you just made seperately, you don't need it anymore
On our working canvas then...
Duplicate the Frame layer
Have your Materials Palette (the colour boxes)
Foreground on Black
and Background on White
Click inside the bottom frame layer
with Magic Wand
Selections, Modify Expand by 4
and
on a new Layer below the frame
Apply Mura Meister Clouds
on the default setting
then
Take your Tube
Paste as a New Layer above
the Clouds layer
Selections Invert
and hit Delete on the tube layer
Selections None
Apply a dropshadow to the tube layer of
2, 2, 45.00, 5.00, Black
This shadow doesn't show up outside the frame layer
so no extra deletion needed :)
and finally
on the Frame layer
Eye Candy 4000 Corona
on the default settings
but
Change the corona colour to one that
compliments your theme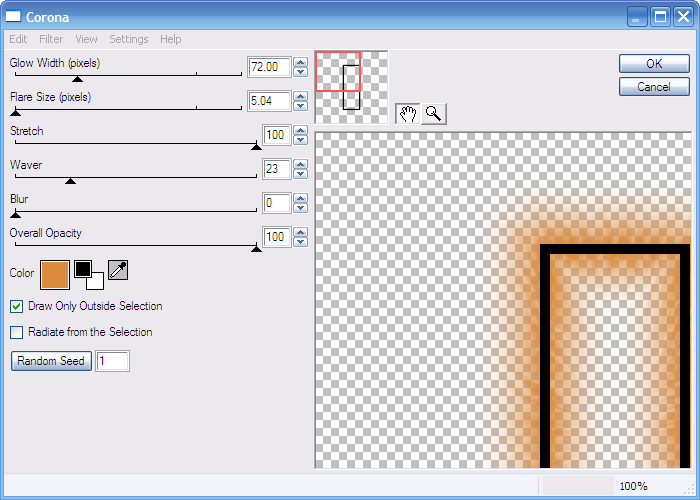 OK to Apply
Then on the Top Frame
Click inside
Selections, Modify, Expand by 4 as before
But
don't invert
Simply go to the Corona layer
and hit Delete
Selections None
Now
On this top frame layer
Duplicate
Image
Resize
80%
Smartsize
All Layers NOT ticked
Once you've shrunk this copy
Move it across the tag canvas to the left (see mine for ref)
then
Duplicate this smaller frame layer
Image
Mirror
Once you've got them placed as mine
Move them down the Layer Palette so that
they are below all the layers except the White Background
then
Duplicate each frame
and repeat the above process of new layer, Cloud, Tube, Invert Delete tube etc
and apply Corona to each of the bottom frame duplicates and delete the
inner part using the top frame as the guide
Use different sections of the same tube
or
use three different tubes (same artist natch!)
and
You can adjust the Amount of Cloud and the Random Seed of Corona each time
before you apply if liked.
Careful how far over you are or Corona will touch the size
of the canvas and we don't want that
If this happens, Undo, and either reduce the Corona size
or take your eraser and remove the bits that touch the side.
So, when you're done, you'll have a tag that looks quite like my one?
Excellentaaaaaay!!
Right, on we go...
Now, on the TOP copy of each of the frames
Eye Candy 4000 Marble
and look for the setting called
Sharp Calcite Veins
then
Change the Bedrock colour to Black
and
the Vein colour, you can either change to White
or
to a colour that will suit your tag
Do this by clicking
the Vein Colour itself
and the Colour Wheel will come up so you can
choose a colour in there
I used lary Orange lol!
OK to Apply
and do this process for each of the top frame layers
Hit Random Seed a couple of times before you
apply for some variety
And...
If you're an animated tag fan, you can use this method
on a three layer animated tag, just duplicate each of the top
frames three times
and apply different Random seeds of Marble to each set of three
You could also do this with Corona too :)
Anyway...
Right then
I chose to apply the smaller version of the tube
to the tag as well as it had
some nice little extras like pumpkins and a tree and pusscat etc
But this is optional
You could also add additional elements at this point too - I used one of Rac's
Lady Pumpkin's pumpkins in my 2nd example
Apply the same shadow as used for the inner tubes when you're done
Now, also apply this shadow to the Marble versions of
the frames (don't add it to the Corona'ed ones)
And now
on each of the Coroned frames - apply Penta.com Colour Dot
on the default Settings
90, 2, 255, 255, 255
Move all three of the Corona frames
down the Layer Palette so they are just above
the White Background
Open my wordart
Choose which one to use
Paste and Position
No need to shadow :)
and add any extra wording you'd like
In my 2nd tag, I used "Let your Pumpkins do the talking this"
and then used one of my wordarts to finish off lol!

Add your name where you'd like
Now add your artist copyright info
and Crop the canvas size
Delete the Background
and save your work as a transparent PNG for best quality
On this 2nd example I also added a pixel font
saying Happy Hallowe'en
I then used Mura Meister Copies on Tiling with a Tile Gap of 2, dropshadowed it
and then applied a favourite mask to the layer
This tutorial was written on 22nd October 2009 by Vix
It is a tutorial based on a tag of my own design created
this morning and
any potential similarities to other tag tutorials that
may be available is wholly unintended and completely coincidental.
Any items supplied to use to create your own tag with this tutorial are supplied
in good faith - if I have used something not intended
for usage in this way, please contact me via email.
Any items created by me for the purposes of this tutorial MAY NOT be used in
any other tag tutorials, nor as layers in templates or as scrapkit elements. If in doubt, don't use it.
Links to tube/scrap blogs or sites are added either through necessity or creator courtesy,
and it is entirely up to the individual (ie. You!) if you choose to visit these sites and/or download/purchase from them.
Scraps used in my tutorials that I've obtained from PTU purchased scrap kits are NOT supplied
in my tutorials supplies.
This website is intended for educational/entertainment purposes only
NO linking to my tut examples, screen shots, files or graphics permitted
All of my tutorials are registered with TWI