GIFTED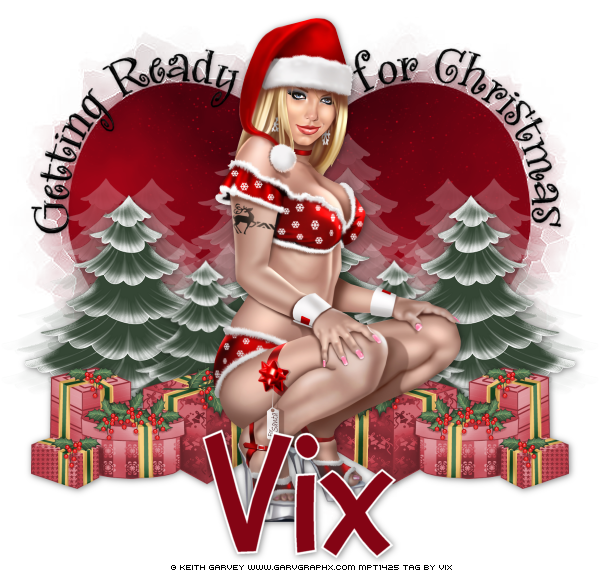 Tube of Choice
- I'm using one of the Christmas gift freebies that
were sent to all MPT customers who shopped with them this year - and
yeah, I definitely did lol!!
(Thanks MPT and Keith - fab tube!)
So if you don't have it, use another Christmas themed tube of your choice
Tree Tube and Presents Tube by Rainbow Coffi
Thank you Victoria for the gorgeous tubes, and if you'd
like more of Rainbow Coffi's fantastic work go to PSP Playground
Registration required.
Background - by me
Wordart - by me
Supplies can be downloaded HERE
Toadies - What Are You?
_________________________________
Start with a 600 x 600 Canvas as usual
Floodfill a new Layer White so we can see what we're doing
(you can delete this layer later if liked)
Now open the RC tube - V~EyeCandyChristmasTrees
Image, Canvas Size
and change the CANVAS size of the tube to about 450 x 450
now
Choose which one you'd prefer to use - gold trimmed or snow trimmed
Take your Selection Tool - Freehand Selection (the Lasso Tool)
set on Point to Point
And (you may need to zoom in to see this better - I did lol!)
Go around the tree of your choice - clicking as you go
so that when you're done, the tree you want to use is surrounded
by the selection edge
Edit, Cut
and then on the original canvas
Edit, Paste as a New Layer
now Close the tube without saving changes.
On our working canvas
Move the tree you cut out over to the left middle of the canvas
Duplicate
Image
Mirror
Duplicate the original tube you pasted
Image,
Resize
80%
Smartsize
All Layers - not ticked
Move this one (which is on the left of the canvas)
down a bit
(See my placement for better idea of what I'm getting at)
Duplicate the tube
Image
Mirror
And make sure this duplicated layer is above the other larger tube on the right
Now, you should still have the original tube on your clipboard
So just hit Paste as a New Layer again and
there's the original tube
Drop this down the Layer Palette so it's just above the White Background
and move into position like mine
On this tube
Duplicate
and on the bottom layer
go to
Toadies
What are You?
and have the X-dose slider on 40
and on the Y-dose slider on 15
Duplicate the left larger tree
on the bottom layer
X-dose on 20
Y-dose on 15
Duplicate the right larger tree
same settings as above
On the left smaller tree
same as above
and
right smaller tree
same as above
NOW
Move all the Toadied layers
below
the main tubes to just above the white background
And now on the main tree tubes (the un-Toadied ones)
Apply a dropshadow to each tree
I used
1, 1, 50, 10, Black
Open the Rainbow Coffi
V~ThetheSeasonPresents tube
Copy the tube
Paste as a New Layer above all the others
Image, Resize - 40% Smartsize (just the present layer)
Place on the left hand size of the tag canvas
See mine for reference
Duplicate
Image
Mirror
Apply the same dropshadow to the presents layers
Open the Main tube and paste as a New Layer
Move to the centre of the tag
Resize if needed
Apply the same shadow as before
Open the Tag Background
Paste as a New layer just above the White Background
Resize if liked - Recolour if liked too (I did)
I also erased part of the background that showed below her feet
Open the Wordart I've provided
Place on the tag canvas - see mine for reference
Apply a more subtle dropshadow to these words
Perhaps 1, 1, 25, 5.00 Black
Choose a colour from your tag so far for the Background colour
Foreground colour on White
Choose the font you want to use
Have the Stroke on 2.00
Type out the name
Stretch, Convert to Raster
Place and dropshadow as for the majority of the tag
Apply the artist info/copyright/license info
Crop the excess tag if prefered
(Take care not to crop any Toadied layer edges etc)
Now, if liked you can apply a standard animation to this tag
Try adding the animation to the Background layer
Perhaps some sparkles via Constellation as above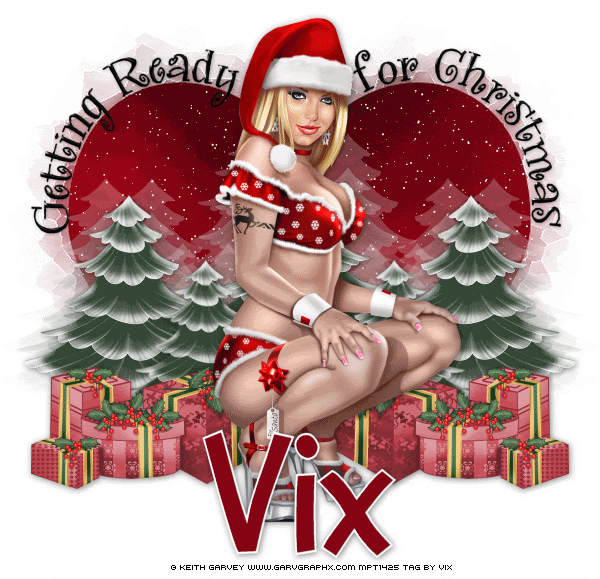 or Some snow courtesy of VDL Adrenaline Snowflakes
Whatever you'd like but remember, if you do animate and there's
lots and lots of strong colours on your tag - it may optimize and save weirdly.
So, maybe, if this happens to you,
Just have it as it is :)
Anyway, if you're not animating then
Save as PNG (if you want a transparent background, delete the White
background layer then save)
That's it!
This tutorial was written on 5th December 2008 by Vix
It is a tutorial based on a tag of my own design and
any potential similarities to other tag tutorials that
may be available is wholly unintended and completely coincidental.
Any items supplied to use to create your own tag with this tutorial are supplied
in good faith - if I have used something not intended
for usage in this way, please contact me via email.
Any items created by me for the purposes of this tutorial MAY NOT be used in
any other tag tutorials.
Links to tube/scrap supply sites are added either through necessity or courtesy
and it is entirely up to the individual if they choose to visit these sites.
Scraps used in my tutorials that I've obtained from PTU scrap sites are NOT supplied
in my tutorials
This website is intended for educational/entertainment purposes only
NO linking to my tut examples, screen shots, files or graphics permitted
All of my tutorials are registered with TWI