FIVE GOLD RINGS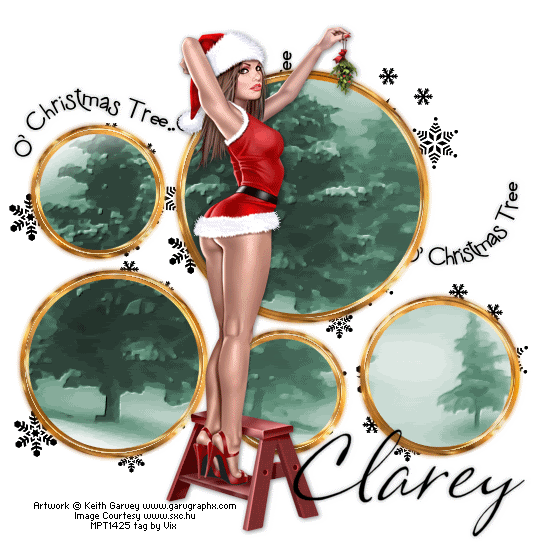 If you want the tag smaller then
resize the rings template before you start
and then resize the graphics etc to suit
SUPPLIES NEEDED
Christmas Tube of Choice - optional
I'm using the delicious new Keith Garvey Christmas tube available from MPT HERE
You must purchase this item if you wish to use the same.
Gold Rings Template by me - HERE
Misted Background Image - fiddled with
by me lol! from an image from www.sxc.hu
Download the image HERE
Wordart/Brushes of your Choice
Font of your Choice
____________________________
Open the Gold Rings Template I've provided
Click inside the five rings with your magic wand
and Selections, Modify, Expand by 4
New Raster Layer below the rings
and flood fill White
Selections None
Open the misted image I've provided
and colourize to suit your tag theme if liked
Click inside the largest gold ring
with magic wand
And selection expand as before
Copy and Paste the misted image
as a New layer below the rings
and place the part of the image
you'd like to be in the ring
Once placed, Selections, Invert
and hit Delete on the misted layer
Selections None
Now, click inside the 4 smaller rings
Selections expand as before
and now paste the misted image
again (should still be on your clipboard)
It's large enough to have a bit
in each of the 4 smaller rings
So position as liked
Selections Invert Delete
on the misted image again
Selections None
Right that's the rings and background done!
Duplicate the rings layer
move this layer down to just above the White Background
Adjust, Gaussian Blur 2.00 to
give a subtle shadow to the rings
Open any brushes or wordart that
you've chosen to use
and place it as liked
I placed mine under all the layers
to give a poking out effect lol!
Shadow if liked/needed
Open the tube you've chosen to use
Place where liked
Add a nice subtle dropshadow to it
NB. Make sure if using a tube, you use
an artist (paid or free) that allows usage with stock photography.
If you decide not to use a tube and simply
add embellishments/accents etc - then credit should
be "Image Courtesy www.sxc.hu"
Add any other accents etc you might like
to use or keep it simple if prefered
Add your name in a scripty font of choice
Add your copyright etc
Now if you're not animating - then save as .PNG
and you're done
If you are - read on...
Duplicate the main ring layer twice to total 3 layers
On the first layer, apply the Eye Candy 5 Textures, Texture Noise
on the following settings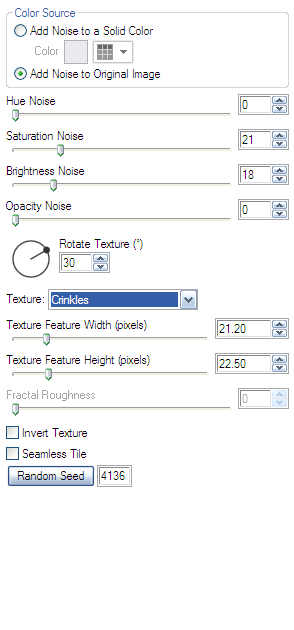 Apply these settings to
the other two ring layers
but hit Random Seed each time before applying
Animate my usual way
(see my how to page for details if unsure)
Don't forget the Animation Properties, Opaque, White
and the Frame Properties about 35 or slower
Save as .GIF
All done xx
Thanks for looking and I hope
you have fun trying this tut
This tutorial was written on 4th December by Vix
It is a tutorial based on a tag I made
and any possible similarity to other tag tutorials
that might be available is wholly unintentional and
completely coincidental.
The supplies I share are shared in good faith.
If you see anything used within my tutorials that
you personally know for certain wasn't intended for such usage,
please contact me directly via email to
let me know.
This website is intended for educational/entertainment purposes
NOTHING (unless tutorial supplies
or a tag made personally for you) is to be removed from it.
All of my tutorials are registered with TWI.