DARK DIAMONDS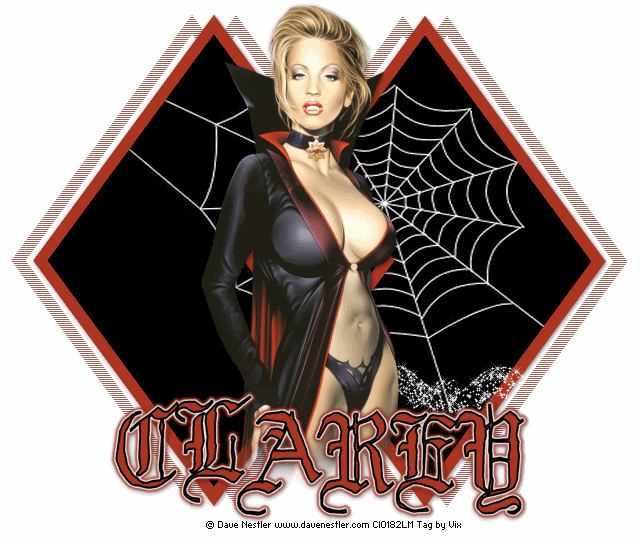 Tube of Choice - I used the work of Dave Nestler
IF you wish to use the same, you'll need a license
Go to CILM HERE for more fabulous tubes.
Preset Shape - Objects - Diamond 1 - HERE
Mask - I believe was made by Mz Kels from www.withwildabandon.com
Get mask HERE
DSB Flux - Linear Transmission
Bat Animation - by Nicky M
Go to her site and download from the Glitter Anims page
called Butterflies/Bats
UPDATE - Nicky's site has been down for some time now, so I've decided to
upload the bling to this page. Huge thanks to Timber xx for
finding the bling in her collection as I'd lost mine lol!!
Download the bling HERE
___________________________________
Open a New Image 750 x 600 White Background
If you'd prefer a much smaller tag, start much smaller :)
Open the Preset Shape - Diamond 1
Line Width 12.00
Stroke Colour of Choice to match the tube
Fill - Null
Draw out Diamond on left side
Convert to Raster and
Duplicate Image Mirror
So it looks like this -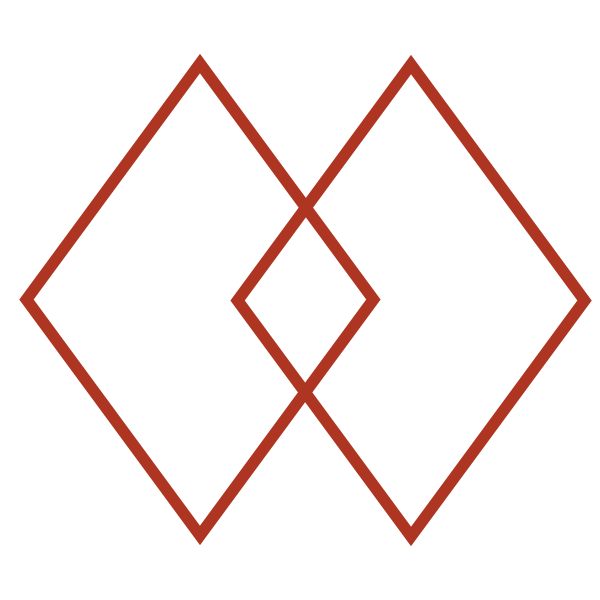 Layers, Merge the two diamond layers together
Duplicate
and on the bottom layer
Apply the DSB Flux Linear Transmission
on the following settings -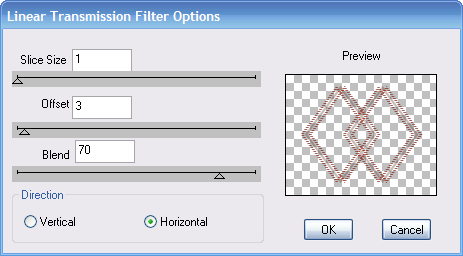 On the top diamond copy, click inside with the magic
wand on the three inner diamond pieces
(The two larger bits and the small middle piece)
Selections Modify Expand by 5
New Layer - below the top diamond copy - flood fill white
New layer above this - Flood fill Black
Selections None
and add the Mask to this black layer
on the following settings -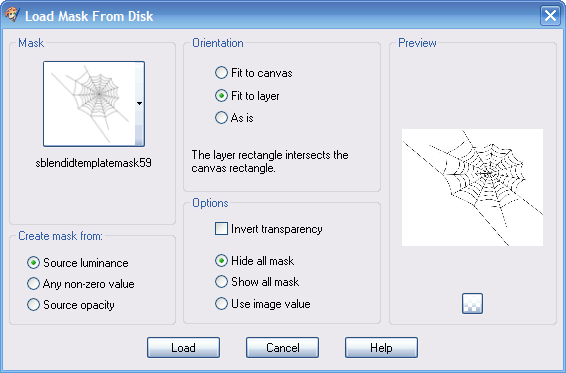 Layers - Merge Group
Add a subtle dropshadow to the top diamond layer
Copy and paste your Tube as a New Layer
Size as liked
Dropshadow
If you've got a very hard straight leg crop, you might like
to use your eraser tool on a soft opacity setting to
erase the harsh edges
Add your name in a colour to match your tag so far
Dropshadow
Add your copyright, license info etc.
Crop the canvas now
(If you resize, the DSB flux effect will get ruined, so crop only.
If the tag is too big for your liking, then try and start on a much smaller canvas)
Right, the tag is ready for animation.
Hide the copyright, name and tube layer
Edit, Copy Merged and Paste as a New Animation in A/S
Open the Bat Animation in A/S
It's 41 frames.
So, click on your pasted tag and duplicate the frames to equal 41
back to Frame 1, Edit Select All
On bat Animation, Frame 1, click Edit Select All on there too
Click the Propagate Paste icon in A/S
and then drag the first frame of the bat
to the first frame of your tag
(don't let go lol!)
Place it to the bottom right of the diamonds
now you can let go
And now the bat animation should be in all frames of the tag :)
Click on the First Frame
Edit, Select All

Animation, Animation Properties, White, Opaque
Now, back to PSP
unhide Tube, Name and Copyright
Hide the rest of the tag
Edit, Copy Merged
Back to A/S
Paste as New Animation
and again drag this into the first frame of the tag
(Making sure that ALL the frames are still selected)
That's it
View, Animation
Save as .GIF
Done
Fairly simple, but I hope you enjoy the results.
You can add more scraps etc if you'd prefer, but
with tubes as fab as this, I'd rather let the art speak for itself :)
Hugs xx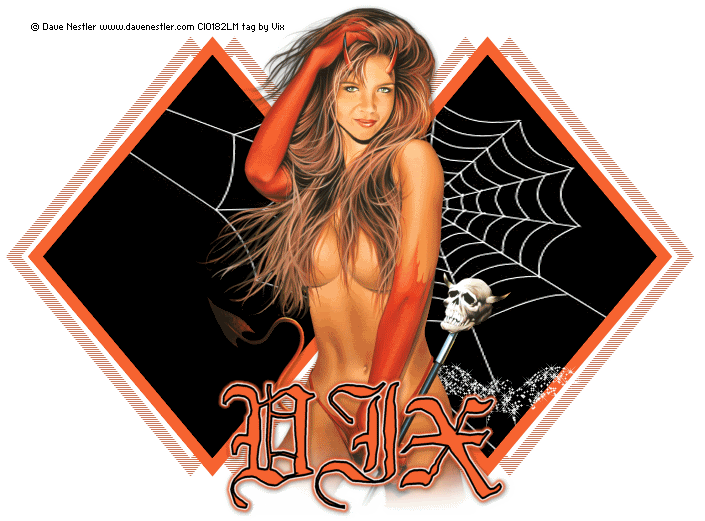 This tutorial was written on 23rd August 2007 by Vix
It is a tutorial of my own design based on a tag of my invention.
Any possible similarities to other tag tutorials is wholly unintentional and
completely coincidental.
Tutorial similarities may be perceived if similar effects and tubes are used -
but no plagiarism is intended (intentional or otherwise)
My tutorials are not to be used to help create tags for personal ayment or any kind
of commercial profit