CHRISTMAS SPIRIT
A fairly simple tutorial for Christmas
which I threw together for frequent visitors to my site :)
This tut is for people used to my tut style, as I've not always
gone into great detail as not only is time a factor at the moment lol - but
I'm working on the assumption you're a bit proficient in some of the techniques and
have made quite a few of my tuts. One for the seasoned tagger, this tut.
Have a fantastic festive season xx
SUPPLIES NEEDED
Tubes of your Choice - you'll want about 3 or 4 tubes
I'm using Suzanne Woolcott for my main example - if you'd like
to use the same, you can purchase Suzanne's work HERE
Rainbow Coffi Tubes
Some of the best Christmas tubes around!!
You may already have them, they're called
White Forest Sky and the Holly Flowers
Anyway, you can get them HERE
These tubes should work for you, they may not though depending on what version of PSP you use. (I use PSP X)
If you have any problems opening these, don't email me please.
Get them instead from PSP Playground and
same applies if you'd like more of Rainbow Coffi's work you'll need to register
but it's very worth it xx
VDL Adrenaline Snowflakes
Penta Dot and Cross
Mura Meister Copies (optional)
___________________________________________
Open a New Image 400 x 275
Now flood fill with a colour or gradient of your choice
Open the White Forest tube
Resize by 80% Smartsize
Copy and Paste as a New Layer on the tag canvas
Place as mine
Don't dropshadow - it's the background, it doesn't really need it
You might like to colourize it to suit your tag shades too
OK
Open the main tubes you're using
Copy and Paste the first one
move it BELOW the forest layer
Place to the left
Add a dropshadow to the 1st tube
Something quite deep - try 1, 1, 50, 11 Black
then crop the canvas to it's current size for each tube you apply - do this for the forest layer too.
Open the next tube
Copy and Paste
Place in the middle - under the forest layer as before
repeat this for the 3rd tube
You can change the Blend Modes for some of the tube layers if liked - try Soft Light or Overlay
I made the middle tube layer Normal and placed it above the other 2 tubes
Then made the left tube Overlay and the right tube Soft Light
Now
On a new Layer ABOVE the forest layer
VDL Adrenaline SnowFlakes
Apply as mine below OR use a favourite setting of your own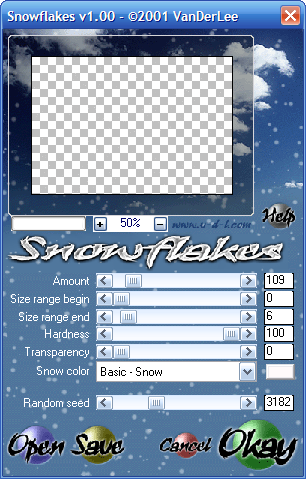 Now add another new layer above the previous snow layer
and apply Snowflakes again but move the Random Seed slider
to somewhere in the 5000's
and then
add another new layer
and change the Random Seed back down to somewhere in the 2000's
Add another New Layer
Selections, Select All
Selections, Modify, Contract by 3
Selections, Invert
and floodfill this new layer with Black
You'll see it's only around the edges - good!
Selections, All (again)
and then Selections, Modify, Contract by 2
Selections, Invert
and this time, floodfill with a complimentary colour or gradient
I went for Gold
Selections NONE
Now
Image, Canvas Size
and UP the pixels to 500 and 375
See my screenshot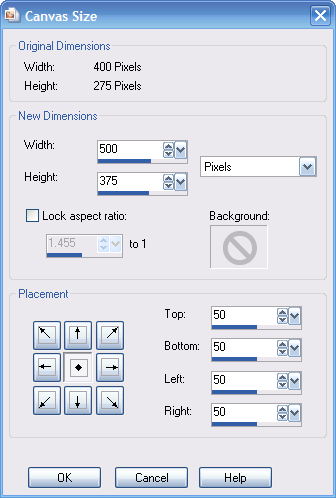 You can see why we needed to crop off the tubes now, or they'd be overhanging
Now then, whiz back down to the bottom of the Layer Palette and activate the bottom layer
and add a new Layer to the bottom of the Layer Palette
Floodfill once more with colour or gradient of choice
Now, you can either add some brushes if you like on a new layer just above what you floodfilled
I added some snowflake brushes in white
and then applied Mura Meister Copies on the default settings but clicked Fade Out
Once you'd applied your brushes
Merge the brush layer to the large floodfilled layer
and then apply
Penta Dot and Cross - and changed the top slider to 20
so it's nice and subtle
Back up to the top layer of the tag which should be our border layer that
we made earlier
And apply a dropshadow to it
Use 1, 1, 50, 11.00 Black
and now add a new layer above this one
and apply a new border layer - just like before
Selections, Contracts, Inverts, floodfills etc
But don't dropshadow the large outer border - the drop is only for the middle one.
Now you can either add a new tube by the same artist you used
or use one of the ones used for the background
I went for one I'd already used
Resize it quite small - I went 50% down, shadowed
and place where liked
Add some small additional tubes if you like (accents etc) but don't go too mad :)
I used some more Rainbow Coffi tubes, the holly and the holly and flowers
are both available for download at PSP Playground.
Now add some wordart if liked
and apply your name in the font and style of your choice
I used my Gold gradient for the fill, Black stroke 1.00 and a fairly small but bold dropshadow
Add your copyright info too
then
Animate the usual way for a 3 layered tag
and have your Frame Properties on 22 or faster
save as .GIF
and there you go!
Merry Christmas Everyone xx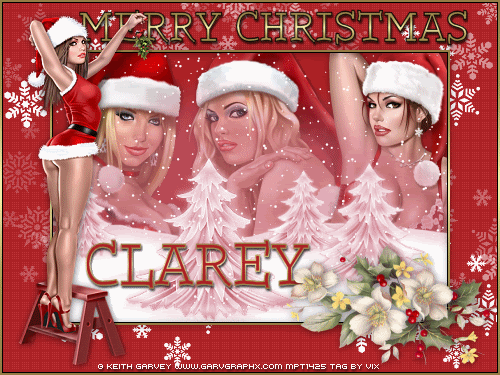 This tutorial was written on 23rd December 2008 by Vix
It is a tutorial based on a tag of my own design and
any potential similarities to other tag tutorials that
may be available is wholly unintended and completely coincidental.
Any items supplied to use to create your own tag with this tutorial are supplied
in good faith - if I have used something not intended
for usage in this way, please contact me via email.
Any items created by me for the purposes of this tutorial MAY NOT be used in
any other tag tutorials.
Links to tube/scrap supply sites are added either through necessity or courtesy
and it is entirely up to the individual if they choose to visit these sites.
Scraps used in my tutorials that I've obtained from PTU scrap sites are NOT supplied
in my tutorials
This website is intended for educational/entertainment purposes only
NO linking to my tut examples, screen shots, files or graphics permitted
All of my tutorials are registered with TWI however they are not registering tuts at this time
This tutorial will be registered in the New Year.