BAUBLE BABE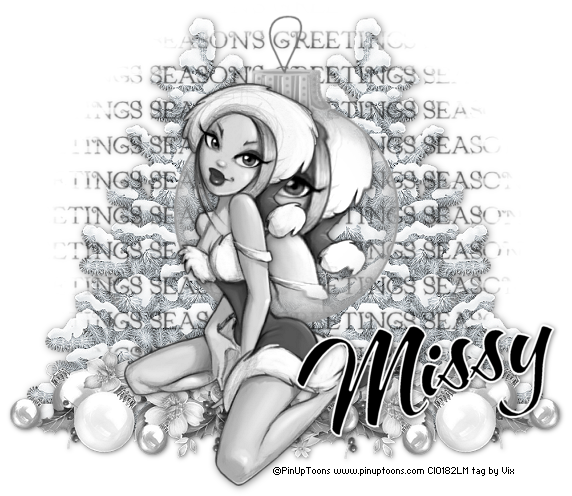 This tut can be as simple or as jazzy as you'd like
to make it - see my other examples for variations on a theme lol!
SUPPLIES NEEDED
Tube of Choice - doesn't have to be a Christmas
one, but of course you can if prefered
I'm using Rion Vernon (Pin Up Toons) Christmas tube
called Individual Tube 19-3 which as you can see
I'm using with my old CILM License - however, Rion's work is available from Creative Design Outlet
http://www.cdoestore.com
If you wish to use the same, you must be licensed to use it so feel free to use a different tube
Trees, Baubles and Candle Arrangement
All made by the fabulous Rainbow Coffi
(expect to see much more of her work in my
Christmas tuts)
I've included what I've used in the download and promoted
the tubes I used to layers. If for some reason, you can't open
the tubes in your PSP, please don't email me (!) but instead you may download the originals
from the site I got them from.
Go to PSP Playground who exclusively host Rainbow Coffi's tubes
Thank you Kim x
Font of Choice
Mask of Choice
Eye Candy 4000 Glass
Mura Meister Copies

SUPPLIES HERE
_____________________
Open a New Image 600 x 600 White Background
Open the Candle Arrangement tube and use either
the arrangement with or without candles
Copy and Paste as a New Layer
Image, Resize 80% Smartsize
Adjust, Sharpness, Sharpen
Move to the bottom left of the canvas
Duplicate
Image
Mirror
and make sure the copy is below
the original
Colourise to suit the tube you're going to use
or go monochrome if prefered
or leave as it is - ooooh, such choice lol!
Once colourised, add a subtle dropshadow to both layers
Open the Winter Trees tube
and cut the left tree out
Copy and Paste as a New Layer
Image Resize 80% Smartsize
Adjust, Sharpness, Sharpen
Make sure this layer is below the other layers
and move over to the left of the candle arrangement
(see my tag for placement)
Duplicate
Image
Mirror
Add a deeper but still subtle dropshadow to the trees layers
(Try 1, 1, 45, 10)
OK
Now open the main tube you've chosen to use
Copy and Paste as a New Layer
Colourise, Resize and Dropshadow as prefered.
Hide this layer for now
Open the Baubles and cut out one to use
Paste as a New Layer on the canvas
Resize as before
Place in the middle of the canvas
On this bauble layer, take your Magic Wand tool
and click outside the bauble
Now unhide your main tube
Duplicate it and
making sure it's UNDER
the bauble layer
Hide the original again and
Hit Delete on the duplicated layer
You should now have just
the bauble filled with tube
Selections
Invert
to select the inside of the bauble
and on your tube layer
go to
Effects, Distortion Effects, Punch
on the following settings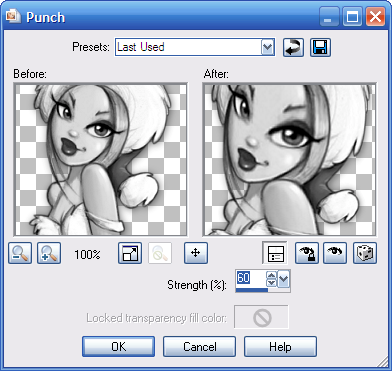 If yours looks a bit mad like that, just change the settings to suit
Keep Selected
Go to EC 4000 Glass now
and use the preset named Basic Glass
Selections None
Now if like mine
too much harsh edges from the tube
"inside" the bauble is showing through
then take your eraser tool on a soft setting
Try 81, 30, 10, 100, 100, 0 and Opacity 33
and gently erase these parts of the tube
The bauble already has lovely shading on it so if
you do erase the tube, it just adds to the faded shaded look!
(See my results and you'll know what I mean)
You can add a shadow to the bauble if wished
but I didn't to the monochrome one
but I did to the green one
OK
Open the font you've decided to use
and type out a seasonal phrase
I used Season's Greetings
Now place in the centre
and go to Mura Meister Copies
Look for Tiling
Change the Tile Gap to 2 or 3
Apply
Now add your mask you've chosen
I used a Mask called Caz Mask 1 which
I know many people have lol!
I resized the mask by 90%
as you don't want the words to overshadow the
rest of the tag too much
Add a subtle dropshadow to the word layer
and move this below the candle arrangements
but above the trees layers
If the words are too much, simply drop the opacity
or leave the layer out altogether as I did
in one of my other examples lol!
OK
That's pretty much it
Crop your canvas now to a more
tag like size
Add your Name and Copyright info
Save as .PNG
All done :o)
Hope you enjoyed this tutorial
Here's some more examples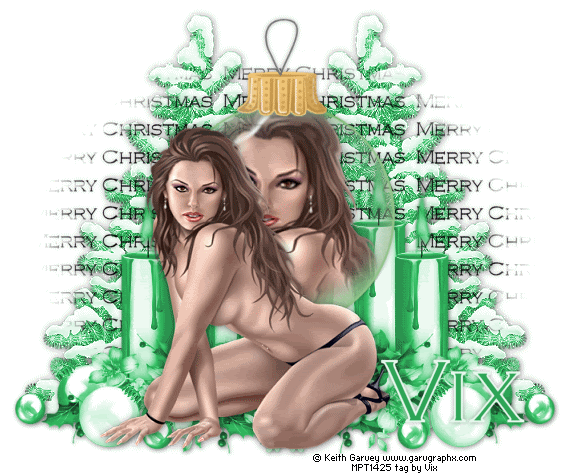 The first one, I merged the tree layers
together and duplicate to total 3
then added a very subtle Xenofex 2 Constellation setting
to each layer for some sparkly trees.
The second one, I just used ornaments which are
available for free download from Corel
and added them to a layer
of their own
Coloured them and had them flashing hehee!
and added a brush layer behind the trees.
And the third example (below) is the original tag on which
this tutorial is based, and I added VDL Adrenaline Snowflakes to the
bauble layer which I duplicated to total 3 layers
and added the snowflakes only to the bauble part.
Thanks for Looking and if you do this tut, I hope you
enjoy it xx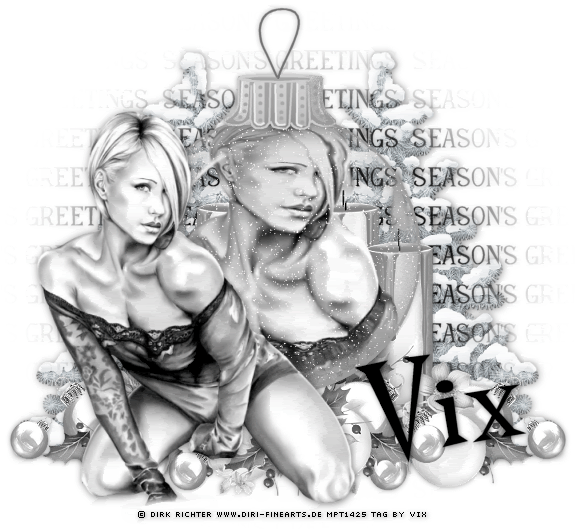 This tutorial was written on 7th November 2007 by Vix
It is a tutorial based on tags I made
and any possible similarity to other tag tutorials
that might be available is wholly unintentional and
completely coincidental.
The supplies I share are shared in good faith.
If you see anything used within my tutorials that
you personally know for certain wasn't intended for such usage,
please contact me directly via email to
let me know.
This website is intended for educational/entertainment purposes
NOTHING (unless tutorial supplies
or a tag made personally for you) is to be removed from it.
All of my tutorials are registered with TWI.